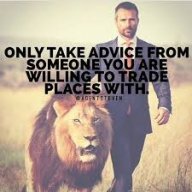 Silver Contributor
FASTLANE INSIDER
Read Rat-Race Escape!
Read Fastlane!
Read Unscripted!
Speedway Pass
Howdy!
It seems I have been MIA for nearly a year on this site! As a student physical therapist, I have just had my head in the books and there seemed to be no time to look up and forward to new business opportunities...
UNTIL LAST MONTH
I received an email from a business and technology school asking if I wanted to participate in what is called an "IdeaLab." Basically, people in the medical community provide problems that need to be fixed and the people at IdeaLab will try and come up with solutions.
Here is the catch.
They only give you 24 hours!
Long story short, my team came up with a concept to redesign a shoe to help certain people with physical disabilities. We got a lot of people talking about the potential of our idea as we were able to create a prototype and showed a working demonstration on the specific problem we were trying to solve.
By the end of the 24 hour period, I decided I wanted to take this concept to the next level and create a team.
There was only one problem...
I'm not a student of their school. So I have been getting stonewalled from trying to join their team. They kept saying, well you have to be an undergrad student(I'm a grad student) to be able to transfer into an extracurricular class. However, I don't care about the credit from school. I just want in on the project.
I decided to go a bit rogue. I know. I know. Bad a$$, right?
I contacted one of the team members that has a degree in industrial design and asked her if she wanted to team up and forget about going through the college. She agreed.
She ended up sending me a email about joining a 2-3 week class that helps validate business concepts. At the end of the class, they offer UP TO $50,000 in grant funds if they find a business that is a good concept. That starts tomorrow... I'm incredibly excited!
Anyways, here is my problem. The school is now asking me if I want to join their team... not sure if this guy even knows I'm not apart of their college. So I will be having a meeting with him tomorrow, hopefully. The problem is, the majority of the team members won't be providing any incredible value to the team. Their majors don't even line up with the product we want to create. For instance, we could use a mechanical engineer and a shoe designer... not a biomedical engineer and an illustrator.
I don't want to start working with a bunch of people that are unnecessary as that just slows things down. I ended up emailing the girl who I was going to work with... she now says she doesn't seem to have much time for this project.
I am torn, having access to the school is incredibly important because I will be able to use their equipment to help build further prototypes and I will have access to some of the teachers or coaches if I wanted.
A possible outcome is if I work with this team(if they even allow me to join) they probably wouldn't want to continue after they finish up the semester, but I also have no clue what will happen. Also, hypothetically, if I do win any sort of grant money, I have no idea how that money will be divided up. Will it be tied to the business or to me and the business I take on.
Anyways, I don't know what the outcome will be but I will try and keep this thread updated on my journey. This is new territory for me so I will be doing a lot of learning on the way. If you have any questions or suggestions, just shoot away! If you want to just follow along the journey, welcome aboard!