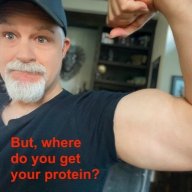 I followed the science; all I found was money.
Staff member
FASTLANE INSIDER
EPIC CONTRIBUTOR
Read Rat-Race Escape!
Read Fastlane!
Read Unscripted!
Summit Attendee
Speedway Pass
User Power
Value/Post Ratio
431%
Jul 23, 2007
36,368
156,739
I Am Not Responsible for Your Actions on This Forum, or The Actions Of Any Other Participants.
If you engage in any kind of business activity via either indirect (Phone/Email/Skype) or direct (PMs/Threads/Messages) participation of this forum,
you are responsible for your actions
, not me or my company. If you engage in a partnership, mentorship, investment, agreement, etc. with ANYONE, you are responsible and liable for any and all actions to that effort.
TFF, MJ DeMarco or Viperion Corporation makes no warranty of any person, any person's financial status, any investment, or any strategy other than to provide a medium to communicate. PARTICIPATE AT YOUR OWN RISK.

DO YOU OWN DUE DILIGENCE
BEFORE ENGAGING IN ANY INVESTMENT, PARTNERSHIP, STRATEGY, BUSINESS, JOINT VENTURE, RELATIONSHIP, EVENT --
I AM NOT RESPONSIBLE
. If you receive emails, private messages, or other solicitations by way of this forum, they are
not
the responsibility of this forum, myself, or my company. If you feel any solicitations are of illegal nature, please report it to me via email at mj - at -thefastlaneforum.com
If you do not agree nor accept these terms, please leave the forum as you are ineligible to participate here.
Additionally, you should immediately read the forum
Terms of Service
as your agreement to them is required for continued use and access to this site.
Regards,
MJ @ Fastlane
Last edited: