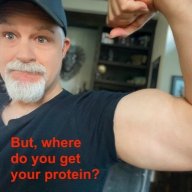 I followed the science; all I found was money.
Staff member
FASTLANE INSIDER
EPIC CONTRIBUTOR
Read Rat-Race Escape!
Read Fastlane!
Read Unscripted!
Summit Attendee
Speedway Pass
Jul 23, 2007
34,652
136,451
So this last Tuesday I spent 1 hour in a hyperbaric chamber as an added proactive, and preventive health measure in my life.
HBOT therapy, while an element of danger involved, has been around for 30 years. And it has been instrumental in helping people recover from various injuries as well as a treatment for Alzheimers and Parkinsons. Here's a video that's worthwhile to watch.
View: https://www.youtube.com/watch?v=1TEYTNI9UEo
What brought me to the chamber was a combination of things:
#1) My father was diagnosed with Alzheimers at a young age, just 62 before he lost his mind. I'm 52. So let's just say, I have a fear of losing my mind, but living to 100.
#2) I haven't had "quality" slept in years. In reviewing my health records, I saw as far back as 20 years ago complaining about poor sleep quality. I fall asleep FAST, but according to my wearable devices, I don't get a lot of REM or Deep Sleep. So I do a lot of tossing and turning. BTW, I've been always plagued by nightmares, which I fixed by reducing my sugar intake, especially around bedtime. Now I rarely have nightmares.
#3) I had some memory declines in the last 2 years (which I hear is supposedly normal as you get older) -- like forgetting when a concert was, who I was with, etc.
Anyhow, my first treatment was Tuesday.
I wasn't sure how I'd react to being locked up in a pressurized tube for an hour while wearing an oxygen mask. The procedure is equivalent to deep sea diving about 30 or 40 feet below the water. "Going down" only took about 2 minutes and your ears pop every 10 seconds. Once down at pressurization, you put on your mask and breathe pure oxygen.
I'm happy to say, I found it quite therapeutic, and a nice impetus to meditate and focus on healing.
Afterward, I definitely felt a bit better. However I'm not sure this was because I basically took a small nap in the tube. You always feel better after naps!
Anyhow, what is really interesting is this...
For the next 3 days, I've had the best sleep of my life. I subjectively noticed that I was dreaming a lot more, and much more vividly. So I took a dive into my sleep data which I've accumulated for the last 3 years.
Sure enough, in the last 3 days, I've had the best REM scores (duration) than I had in the last 3 years. On average, I was only getting about 1 hour of REM sleep per night. Since my HBOT session, I've more than doubled that... 2 hours 10m, 2 hours 35m, and 2 hours, 2hrs, 12m.
In the last three years, I've only had a few nights of REM that exceeded 2 hours. And never one that reached 2hrs, 35m.
No other variables have changed in my last 3 sleep nights.
Cognitively speaking, I also noticed a change there too, but still feel like I need more experience/data to truly ascertain if there is a correlation, or simply a placebo.
That said, I'm impressed and I booked 5 more sessions in the tube.
I will report on my experience further.