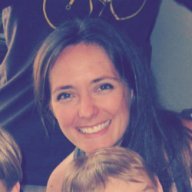 Contributor
Read Fastlane!
Read Unscripted!
Speedway Pass
User Power
Value/Post Ratio
667%
Feb 28, 2018
3
20
39
So glad I finally found a community of like-minded people! Here's a little stream of consciousness-type description of my entrepreneurial-related history...

Why the title? When I was in high school I wanted to "grow up" to be 2 things - a writer and a business owner. But my Dad (a perpetual sidewalker, to the financial devastation of our family) always advised me that if I wanted to make a lot of money, I should "work as close to the money as possible", and this was to be taken literally. So, I went to college and changed my major from Business Entrepreneurship (yes, that was an actual major at my university) to Economics. I got a "good job" as an Investment Analyst as the financial bubble was ramping up back in 2006-07 for a contrarian-type High Net Worth money manager, which was an amazing education in itself.

After the bubble, the firm lost a shit-ton of AUM when the super-rich clients pulled their money out to load up on awesomely cheap assets, and I got laid off a few years later as the last-employee standing. This was as the great recession" was at a very low point, and millennials, in particular, had really high unemployment. So, I have been staying at home with my 2 kids and homeschooling ever since (because vaccines, common-core, retarded helicopter-tiger-mom-culture where I live, and Ron Paul has his own homeschool curriculum, no joke). I decided to see this season of my life as a great opportunity to follow my old dreams.

I have been an "entrepreneur" my whole life - haven't made much $$ yet, but that's what I'm here to work on. I've always had too much excitement and enthusiasm for business ideas and opportunities - I have notebooks full of product/service ideas, b-plans, marketing/branding ideas, etc... Even when I was a little kid, my favorite thing to play was "Shop" where I would make a store and sell various things to my (stupid f*ing) Barbie Dolls. My biggest entrepreneurial problem has been the lack of start-up-monogamy MJ talked about a bit in The Millionaire Fastlane. I also had a problem with helping others get their newborn businesses started and neglecting my own money-baby. My problem has been dedicated follow-through and persistent action, which I am having a lot of eye-openers reading Unscripted right now.

My current 2 business ventures are an In-Home Senior Caregiver Agency with my mom (I work solely from home and she handles all the face-to-face) which is actually starting to ramp up, and re-working a niche blog to something bigger-niche (I went waay to small-niche the 1st time).

If you have read this far, thank you, I'm honored. I love reading about all the lessons other members of the forum have shared, and am glad to be here.
Last edited: