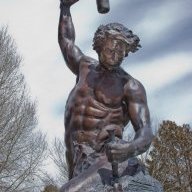 DIESEL
Read Fastlane!
Read Unscripted!
Speedway Pass
Hey,
I'm not sure if you've heard about Tony Robbins new book or not...
Well if you haven't, he launched his new book recently and there's one aspect of his launch that's just great.
Tony is going to donate
all
the proceeds from his new book to help feed less fortunate people this Thanksgiving ... because of the good deed someone did for his family one Thanksgiving.
Plus the information in the book itself seems
very
impressive.
He says he interviewed "50 OF THE WORLD'S MOST BRILLIANT FINANCIAL MINDS
"
to help create his new book. And if you look at who some of those people are, you might be as impressed as I was.
There's also some bonuses that you can get...
Anyways, I bought the book for Kindle already and I wanted to share it here so you have the chance to help yourself ... while helping others at the same time.
Here's where you can get the book - and - the bonuses:
http://moneymasterthegame.com/
PS:
If that seemed "salesy" - sorry about that. It's really just something I thought I should share and the link has nothing to do with me.
PPS:
Happy early Thanks
giving
!