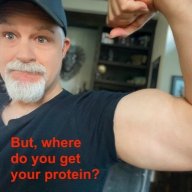 I followed the science; all I found was money.
Staff member
FASTLANE INSIDER
EPIC CONTRIBUTOR
Read Rat-Race Escape!
Read Fastlane!
Read Unscripted!
Summit Attendee
Speedway Pass
User Power
Value/Post Ratio
418%
Jul 23, 2007
35,898
150,193
Several times a week I get an email requesting a personal, one-on-one mentorship. Most of these emails are short-- so short that only question asked is "Do you mentor?" .. no information, no background, nothing!
First, if this is your effort, finding a mentor will be the least of your worries. What kind of effort can I expect from you if I accepted you to be a mentee?
No thanks.
Second, the rules of finding a mentor apply to real life, money, and contribution. If you're seeking a mentor, be professional, detailed, and demonstrate your value/potential value to the mentor. When you approach your mentor with a entitled, GIVE ME, TAKER attitude, expect to be ignored and/or your offer declined.
Third, don't ask them for coffee. If I accepted every "lets meet for coffee" I'd be a professional coffee drinker, drinking 10 cups a day seven days a week. Successful folks aren't usually interested in sitting in Starbucks talking to strangers. Reserve the coffee meeting for AFTER you've established a mentor/mentee relationship.
Fourth, want to really impress a potential mentor?
Take initiative.
Do without permission
Demonstrate value
Be authentic
Just to give you an example...
If you emailed me this, I'd seriously consider your mentorship, even though I don't do one on ones.
Hey MJ, I loved your book! I seriously think I read it 12 times.
Anyhow, I've been studying copy-writing now for 3 years and think I've gotten pretty good at it. I noticed your Amazon description for The Millionaire Fastlane and thought I'd give it a few hours and try my hand at improving it (although it's pretty good now.) Here it is:
[YOUR MODIFIED VERSION OF THE COPY]
What do you think? Please let me know and feel free to use it if you think it is better. Also, I was wondering, do you do any mentoring? I'd love to help you in your next project in whatever you got going as I am eager to work and expand my experience.
Thanks!
Joe Mentee.
​
Assuming the modified copy was an improvement, don't you think THAT would get my attention? Notice the approach. Flattering. Careful not to insult (the Amazon copy). Value provided with no expectation for return. Demonstration of willingness to work-- not TOLD, but DONE.
Or how about this email?
Sup MJ, I'm looking for a mentor to show me the ways of success, interested?
​
Oh man, where do I sign up?
Examine both emails and tell me... who appears entitled, self-involved, and driven by what he can get. And who is driven by what he can give? This same dichotomy frames the challenge we have with money, with this forum, and with entrepreneurship...
who is driven to GIVE? And who is driven to TAKE?
And finally...
As I mentioned above, I don't do one-on-one mentorships. Anytime I'm asked, I tell the person this:
I try my best to mentor thousands at the forum. I suggest you join there and follow me. (It's FREE). I am literally there EVERY SINGLE DAY and I usually contribute 3-4 comments PER DAY. Follow my posts and you'll feel as if you're being mentored by me personally.​
Know how many people actually do this and FOLLOW THROUGH? I can't name ONE. NOT ONE. However, I can tell you some folks on this forum have figured it out-- I notice some of my followers read EVERY post of mine, even if they're short comments.
So with that said, want to be mentored by myself? Or
@Vigilante
or
@Likwid24
or
@Vick
or
@AllenCrawley
@Andy Black
or
@IceCreamKid
or
@Kak
or
@biophase
or
@Eskil
or any other of the rockstars on here?
Follow us and read our every posts.
Here's how (compliments of
@Jamie T
)
1) Follow your guy/gal.
2) Bookmark your newsfeed. ​
This has been a public service announcement.
Good luck,
MJ
Last edited: