Sweeping Shadows From Dreams
FASTLANE INSIDER
EPIC CONTRIBUTOR
Read Fastlane!
Read Unscripted!
Speedway Pass
User Power
Value/Post Ratio
602%
Jan 14, 2013
5,062
30,488
​
There are a lot of places to learn brand building. You can spend a lot of time and money on it if you're not careful. I spent five figures having brand materials created that I never used.
My most successful branding attempts were created 100% by me for free.
You can create effective brands, even as a newbie. It's very simple, although nobody will tell you that. Graphic designers and other brand "experts" always suggest it's super hard and that you should just pay an expert (preferably them). But you can save your money. Just do this instead...
1. Pick a theme
2. Pick a name
3. Pick up to 5 colors
4. Be Consistent
1. Pick A Theme
By theme I'm talking about the identity behind your brand. Is it western? Biker gang? Tactical? Cyberpunk? Goth? Hippie? Rainforest? Coastal? Fishing? 1950's? Rockstar? Holistic? Nerd? Action hero? Wedding? Just pick some theme to set the context for your brand (and also all the feelings you want people to have).
Once you have your basic theme idea, then you have the fundamentals of all of the things that will and will not form your brand identity. For instance, a western brand will not show images of futuristic cities or use biker gang language such as talking about "Hell's Angels."
J. Peterman = Western/Cowboy/Explorer Theme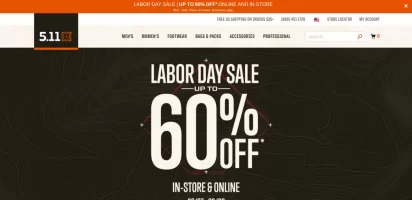 5.11 Tactical = Police/Military/Tactical Theme
2. Pick A Name
Brands can form around any name. But the
goal
is to take that experience deeper for your audience. The closer your name is to the theme and identity you want people to form for you brand, the easier it will be to create those associations. So while a western brand can definitely be formed around the word "Spoon," it will be easier to anchor the theme and identity in the viewer's mind if it is called "Dust" or "Herban Cowboy" or "True Grit" or "Eastwood's Urban Wear"
J. Peterman = Example of how a brand can form around ANY name.

5.11 Tactical = Closely associated with the brand theme.
3. Pick Up To 5 Colors
After you pick your theme, you want to narrow down your brand colors. Most people use white and gray or black on their website pages so that's 2 colors already. They also usually have a primary color and a secondary color (which is used for hover links or other things). Sometimes there is a 5th color that ties in with these other colors, but not always. All colors should transition into one another fairly easily.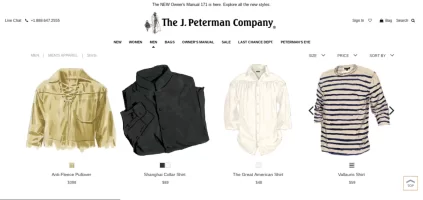 J. Peterman = Dark Tan, Light Tan, White, Black (sometimes brown)
5.11 Tactical = Black, White, Orange, Tan (sometimes shades of Brown/Green)
Once you have your colors, do not deviate from them. A western brand might use light brown for a button and dark brown on the hover. NOT bright red. NOT neon green. NOT sunflower yellow. Those colors don't fit and won't make sense to the viewer. They will feel scattered.
4. Be Consistent
You've got your theme. You've got your colors. You have an idea in your mind of how your brand looks, sounds, thinks, smells, tastes, and feels. All that is left to do is make sure that every communication going forward fits this model.
If your brand is western, and you post a meme on instagram, it should use western language like "pardner" or "howdy" or whatever fits the fantasy. It should show cowboys or other western imagery (like saloon doors). It should have browns and tans and the colors of dust, dirt, grit.
J. Peterman on Facebook = Light Tan, Dark Tan, Black | Imagery fits explorer theme / uses brand name in social media.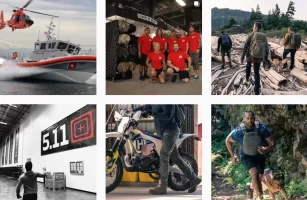 5.11 Tactical on Instagram = White, Black, Orange, Tan (and some green/brown) / Imagery fits tactical lifestyle / uses brand name in post.
Anything you say should fit this model. Anything you post. And as you do this, your brand will begin to form over time.
You do not need to spend money on this.
You do not need an expensive logo. You only need to get started. Set the theme. Pick a name and colors. Be consistent.
Brands Are A Product Of Conditioning
Pavlov conditioned dogs to salivate when they hear a bell. The bell rings and the dog knows food follows. The first time the bell rings, the dog does not know that food follows, so he does not salivate at the sight of the bell. But when the dog receives food, then a concept forms in his mind for that experience. So the next time the dog sees the bell or the bell rings, the dog's brain triggers the concept to re-create the experience from before, and then predicts what is likely to happen next. Since the prediction is that food follows, and since expectations of food trigger salivation, the dog salivates at the bell. If food indeed follows the bell, then the concept is reinforced, and the association between the bell, or the bell ringing and food is more deeply anchored in the dog's mind.
Brands work this way too. You start with a theme. Pick a name. Set your colors. A person encounters your brand. At first they've never experienced you. So the first experience is where they form a concept. If your brand is inconsistent (too many colors, no clear theme, mismatched images, words, fonts, name etc.) then the experience is a scattered mess and the brand identity that forms is "a mess" and can't be easily categorized or anchored in the mind.
If the theme and colors are pulled together (even if they don't look amazing) then the concept that forms is compartmentalized into the appropriate themed identity. So a website called "Dust" that sells cowboy clothes and shows images of horses, saddles and cowboys wearing denim jeans, boots and 10 gallon hats, forms a "western" concept in the mind. Later, when the viewer tells their spouse about this "cool clothing brand" they saw earlier, they'll describe it as "
this cool western brand called, Dust
."
When the viewer encounters the brand again, they will expect more of this experience. If they follow you on social media, they will expect more of what they got the first time from your posts. If you are consistent, and you use themed images, attach your name to your posts, and use your selected colors, then you will reinforce the association of
western
with your brand and you will deepen the brand identity and experience for your viewer.
If the viewer is someone who enjoys the experience of your brand, then they will feel good each new time they encounter you and get more of the experience. With each new, consistent experience (post, page, video etc.) the addiction grows stronger and stronger until it becomes irresistible. Finally, at some point, the brand's identity merges with the individual's identity and they become one. They are inseparable. The brand and the individual are now one entity and because of this bond, you have a customer for life.
Bonus Tip - Seal The Deal With A Symbol
A name is enough to remember a brand. If you combine a good name with a symbol (in your logo) then it creates a much more powerful anchor for the experience in the viewer's mind. That's because symbols are like storage boxes. They give form to everything contained within the brand fantasy (the box -
the symbol
- stores the fantasy and identity inside).
It does not matter how simple or complex the symbol is. What's important is that it has some unique quality that can form a mental association between the brand name and the theme in the mind. It needs to be unique so it can always be easily identified and triggers the brand experience when encountered.
This is why every country's flag is a little different. Whatever country you are from, your country's flag is a symbol of your citizenship and everything it entails. You can more easily see and identify your country's flag than the flag of any other country in your imagination. For me it is the United States flag. I can draw it from memory. Don't ask me to draw the U.K.'s flag. Although I have an idea of what it looks like, almost guaranteed I'll draw it incorrectly. Also, if someone steps on the U.K. flag, I might think it is poor behavior from the stepper, and I might be angry about the individual's choice to offend people, but I WON'T be angry that the U.K.'s flag is being stepped on because
it isn't my country's symbol and therefore isn't an extension of me.
J. Peterman Symbol = Cowboy Horseman
5.11 Symbol = Orange Target / Sight Picture
After the first time you come into contact with the brand and its theme, name, colors and symbol, then a concept forms. The symbol, in particular, can then stand out in the mind and trigger all of the other associations. As the viewer merges more and more with the brand, (especially once they become a customer) the symbol serves to reinforce everything that the brand (and by extension the customer) represents. Then just seeing the symbol triggers all of the good feelings associated with the brand. With some people the symbol triggers such powerful experiences, identities, fantasies and associations that the customer will even mark their own body, solidifying a bond for life.
Free Branding 101. The end.
Last edited: