Administrator
Staff member
EPIC CONTRIBUTOR
FASTLANE INSIDER
Read Millionaire Fastlane
I've Read UNSCRIPTED
Summit Attendee
Speedway Pass
Jul 23, 2007
32,462
123,486
3,751
Thus far, here is a list of effected industries.
Trade war tracker:
Trade-war tracker: Here are the new levies, imposed and threatened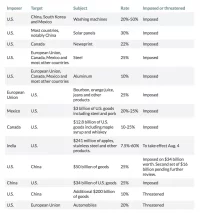 And this afternoon, more tariffs potentially planned ($200B worth), not yet known where.
U.S. Poised to Publish $200 Billion China Tariff List
If you're an importer, are you worried?
Feel free to discuss.
PLEASE KEEP POLITICS OUT.
This will not be a discussion on the trade policy itself and whether it a bad idea, good idea, or somewhere in between.