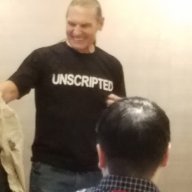 Platinum Contributor
Read Fastlane!
Read Unscripted!
Summit Attendee
Speedway Pass
User Power
Value/Post Ratio
700%
Dec 25, 2012
704
4,927
Years ago I had a roommate that I regarded highly.

This guy was one of the smartest guys I'd ever met. He was in sales and could talk his way around and through any subject.

Because he was a couple of years older than I and looked the part of success I thought highly of him. He always had a bunch of free time and because I was jobless at the time I'd hang around and listen to him talk about creating the next big sale. You see, he would sell insurance to the military, organizations and companies.
He would sometimes sell 50-60 policies in one day by giving a 'seminar.' I would just shake my head listening to his stories of how he won so many over in just a matter of hours.

The only problem was, that once he sold one of these big accounts, he would sit back and do nothing of value for the next few months until he ran out of money and then he would have to start over again and find another 'customer.'

Like I said, he had a silver tongue but he just couldn't keep his FOCUS.

He would rather go to the bar and talk about what he was going to do rather than actually doing it.

"There have been more bridges built in bars than have ever been built on earth" is how we would say it working construction...

He would go home and work on creating sales handouts and designing the next flyer/brochure but for some crazy reason he would never use them.

I finally figured out that he was what I call a 'Chief Procrastinator.'

Love to stay busy for busyness sake but never really put it into real ACTION for any amount of time.

I liked the guy. He was my best friend. But I saw him for what he really was, and I had to separate myself from him.

I realized that I had to leave or allow the possibility that he would hold me back and bring me down.
I couldn't allow that.

Sometimes we have to separate from the friends we like, but hold us back from that path we are on.

Sometimes friends,

Sometimes relatives,

Sometimes lovers.

Don't allow anyone to steal your dream, and don't be a part of anyone else's nightmare.

"I would rather have 30 minutes of wonderful than a lifetime of nothing special" Julia Roberts, in Steel Magnolias

What is unfortunate is though we are still friends, we are not close. I think he sees my success while he remembers his failures. I believe it makes him uneasy though I don't flaunt my endeavors.

I learned through that friendship that one can have all the tools for success, but without appropriate action, it is all useless.

Another way of putting it is to get off your a$$ and DO SOMETHING.

Action does speak louder than words...