Legendary Contributor
EPIC CONTRIBUTOR
Speedway Pass
May 9, 2017
1,390
6,598
1,477
25
New cars depreciate incredibly fast. Even the best depreciation rates can be 30-40% over the first few years for a new car. It doesn't make sense to invest in a depreciating asset. Whether it's as the borrower, or the lender. It's expensive for both of them.
Instead, it makes sense to invest in a appreciating asset or at least something better than losing 30-40% of it's value.
Do new cars appreciate or maintain value? No.
Do slightly used cars appreciate or maintain value? Not really.
Do classic cars appreciate or maintain value? Yes.
The bulk of a lease payment goes towards the depreciation of the vehicle over the period of time you're signed up for. The new car is worth 30k, it'll be worth 20k in 3 years (could be even worse), so you need to pay 277 a month plus finance charges, taxes, etc. It leaves a tiny profit for the lender, and you pay through the nose for it.
A 1965-68 ford mustang in great condition should be worth around 20k. In 3 years, it should be worth only a little less with the additional miles and some slight wear. Let's be pessimistic and say 16k. The "depreciation" in this pessimistic scenario over 3 years is $111 a month. Let's slap some excessive financing charges on it...
Do you know anyone who would drive a great condition classic mustang for $200 a month? I know many guys newly enlisted in the army and I guessing every single one of them.
I used to sell cars and I've met plenty of people who wanted to be cool on a budget. I think this knocks it out of the park. I personally would love the idea of paying a few hundred bucks a month and driving a cool classic car for the length of a lease. Something like this.
Or this.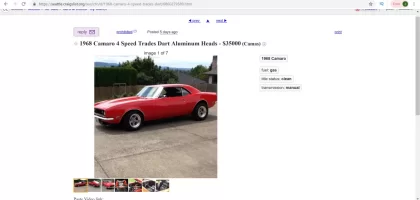 I own a 77 datsun 280z. I could put a little work into it to make it mint, advertise it as a lease for a monthly payment that would net me a decent paycheck each month, put together a bulletproof contract that covers mileage and condition, tamper proof the odometer, install a remote tracker in the frame of the car, and see how it goes. I would have a long chat with a few finance managers I know at a couple of dealerships to learn about the legal part of a car deal and the paperwork needed to have a good lease contract. I originally paid 5k for the car. I've been offered 10k+ many many times in the course of just a couple years of that car rising in value. The business of leasing out classic cars could be very profitable with picking the right cars to buy. If I had bought the car, spent a little to make it perfect, and leased it out to someone else for a reasonable payment, I would have made a good chunk of change. Here she is.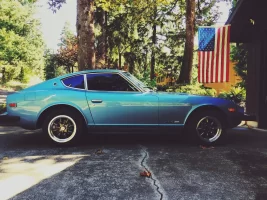 People want to lease cars that don't depreciate, but they can only choose from new cars, which depreciate the most??? Just jack up the money factor, show someone the pretty classic car and the low payment and watch them salivate for the privilege of paying you almost pure interest payments plus any appreciation that could happen to the car. Let's say that mustang goes up in value to 23k. You just made 3k plus the payments made ($200x36=$7,200). You just made a profit of over 10k on a 20k vehicle as passive income, assuming you wrote into the agreement that they would return the car to you at the end of the lease and wouldn't gain or lose money based on the residual value of the car.
You could do this with any car. Think of an older car that you'd want to drive. Maybe it's an american muscle car. Maybe it's a supra or a skyline. Maybe it's an old ford pickup in mint condition. Now imagine enjoying it for 2 years and paying less than a mediocre new car lease for it.
edit:
If you want to do this but have no money, just pitch it to someone with a car they would feel comfortable trying this with, or somebody with money who would like to get a good return on their investment. It's like owning rental properties except you're playing with $20,000 assets and not $200,000 assets and I don't know of any rental homes that could give you a comparable rate of return.
Don't like ads? Remove them while supporting the forum. Subscribe.
Last edited: