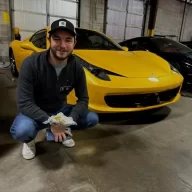 THE TRUTH IS OUT THERE
FASTLANE INSIDER
EPIC CONTRIBUTOR
Read Fastlane!
Read Unscripted!
Summit Attendee
Speedway Pass
If this thread stops one person from quitting, then it's done its job.

I've been on my "fastlane" journey since 2012 and as of the past month I finally hit my goal, which was to make $30k in a single month.. and we actually surpassed this. Our goal now is $60k per month, then $90k, and so on.

Just a few months ago, we were weren't making much at all. I started this company in 2016, and fought tooth and nail to build a team so that we could get everything going. It was painful. I cried at times due to how hard it was to make our products and get our business off the ground. Things just weren't going my way for the majority of my journey. When you come across these barriers of entry, don't let them stop you. Just keep going. It's at points like these when everyone else quits, and it's why you have to keep going.

If I had quit during my hardest times, I wouldn't be here talking about our successes now. Since I'm working on an enterprise instead of a lifestyle business, its taken me years to get to this stage. Now we're ready to scale this thing and become the next leader in our industry. I had to work day jobs during the majority of my journey, and you have to do what you have to do. Don't be ashamed of that.

Any way, I don't really have any other lessons here except to keep going. If you keep inserting quarters into the gumball machine, eventually a gold one will come out.


MODERATOR NOTE
For those wondering how Nick got to this point, his progress thread is on the INSIDE. He's provided pages and pages of material about his struggle, YEARS long, and quite detailed. So if Nick isn't being very forthcoming in this particular thread, it's not that he isn't willing. He's done so on his progress thread which is on the Inside and not indexable by Google.