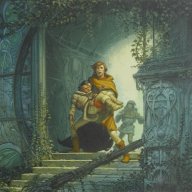 Bronze Contributor
Speedway Pass
What's up, guys? Name's Doug, 22 years old. Read the books about a year ago, just now decided to take it seriously.

So I recently quit my Popeyes job (two weeks ago) and am currently working weekends and studying online courses during the week. IT was the best thing I could've done. I couldn't stand to have all of my days cut in half frying chicken, getting burned by the oil, getting yelled at and coming home exhausted.

My first free week I took it slow. Studied here and there, got on top of my sleep (working two jobs, studying, and music can really mess up your sleep cycle lol) and got on top of my diet.

Now that I'm more clear-headed and more relaxed, I'm actually paradoxically nervous. I've never done something like this before and quite honestly, I didn't know where to even start until a few days ago when I found Lex DEville's threads on Upwork and Copywriting. I currently have about $2,500 to my name and also don't know where to even begin to invest.

However, my heart is 100% into this. I don't know where I'll end up but it sure as hell is a million times better than frying chicken.

Now, I've tried a lot of things to study. Programming, Languages, Web Design and now I'm starting to get into copywriting. I'm gonna commit to this last one fully, though, since I don't wanna pussyfoot this anymore and out of all the ones I've "done"(haven't gotten any jobs but have been taking courses) it's the most intellectually stimulating to me.

So in all brutal honesty: I'm scared, haven't made a dime outside of my jobs and am pretty intimidated by the mountain before me... But I haven't been this excited in a long time. Just wanted to say hello to all you guys and hope for the best!

Current goal: make some $$ on my own time to fuel my business (whatever that may be) in the future. Any opinions/tips are 100% appreciated.