Contributor
Read Millionaire Fastlane
I've Read UNSCRIPTED
Aug 19, 2016
46
58
115
26
As I am going through a new process for budgeting monthly and getting serious about finances, I learned that the Stash investment app was charging monthly for the service. I don't remember seeing any communications about them turning on their machine. It was only a $1.00 per month charge for the level of services they were providing to me but this was scary knowing I've had this app on my phone for a few years.
Attached is also something that hit my RAS was this prompt that appeared after I hit the close account button.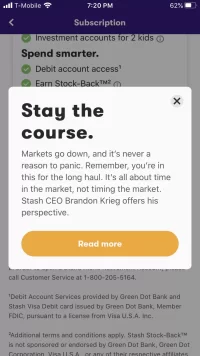 Lesson: Conduct a monthly cleaning on your accounts to trim anything unused or needed and stay disciplined.
Cue: First if the month
Craving: Ensure finances are clean
Response: Fill in monthly budget spreadsheet
Reward: Peace of mind
*Also realizing I only have a single source of income for my Salary/Wages box scares me.
Don't like ads? Remove them while supporting the forum. Subscribe.