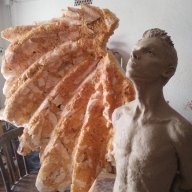 Bronze Contributor
Read Unscripted!
Speedway Pass
OK I'm f*cking stupid or something.

THere's this guy I've known for several years. He's a theatre actor and director, extremely narcissistic, the kind of guy that asks for a small favour and once you agree, keeps increasing it more and more. Recently he's started to work making theatre shows for a big football club that (surprise!) gives the work to the one that charges less.

Some of the previous experiences I've had with him:
I created a statue for a nonprofit organization I was member of. He was the link between them and me. He actually was the one that wanted this statue (the other members didn't care about it). I agreed with him to do it at 60% of my competitors' budget, but we didn't close the price. But he told the organization I would do it for 10% of the price because it was the only way they would agree to have it done. I found out in the middle of the project.

Last week he called me. He offered me two businesses:
-A graffiti 2hour show, 4 days at 40/h each. I told him I charge 20/h, and that preparing materials+transport+the actual show was about 5h, so minimum he should be paying me 100/day.
He couldn't so no deal there. Everything OK (except the 45min unpaid time that I had to listen to him rant and whine to me about how low they were on money, blah blah blah.)

The next day he offers me another small job: a scenery for a kids' play for 200€ that they'll pay me in a month, but that must be finished IN JUST A F***ING WEEK. I tell him I will be doing 10h of work, no more, and the budget didn't allow for quality materials. Everything ok.
I workes until late every day (because I already had a packed week). I agreed because I knew the limit was 10h.
Of course 10h were not enough, so I do 3 more for free and I don't charge for the designs. I insist him on some facts:

-I'm working with very limited materials because there's no budget;
-I won't go to the place (45min trip) to set up the scenery for free;
-I will do what I can with that budget, and no more.

In the middle of the week he tells me they'll come pick up the pieces on FRIDAY instead of sunday, so more pressure to have it finished. At least I won't be worrying about it on the weekend, I think.)

I lend him several pieces of furniture for the theatre play, for free, and I agree to do some styrofoam shapes on the weekend to compensate because the scenery is unpainted because there has been no time nor budget to paint it.

So, on sunday the play director (with whom I had never spoken) calls me, tells me the scenery legs have broken when setting it up and asks me to do a 45 min commute to fix it, of course without paying me anything. My "friend" had told her I would do the scenery for 200€ so she assumed some kind of warranty.

Summarizing, due to f+++ing low budget and the fantasizing and half-truths of a narcissistic guy, I've let down some people that I don't know, generated a problem to them, and been working extra hours for 200€ that I probably will never see.

I have told this director that I am unable to go help them this Sunday afternoon if they don't pay this extra time, and she's told me that they can't even pay me the agreed 200€ for something that doesn't work. If they are theatre people someone should know how to fix it. I've offered to help them fix it from home, via phone communication, even suggested alternative ways of assembly. But probably I won't be seeing any money.

OK, so in order to be a bit positive, some advice for people that might face similar situations:

1. Don't discuss the job conditions with a phone call, but with whatsapp text messages or audio recordings. This way you can show them to third parties when a conflict arises.
2. Don't f***ing work with people that are low on money, or that ask you to lower your prices. Dump them as soon as they appear.
3. Some people don't change. Don't give them third opportunities.
4. Don't work for promises of something or because you're low on money. I accepted this job because I was closing the year with less money than I intended. Always be dominant and reject people that want to force you into work conditions that you aren't confortable with. Don't lose your position when negotiating.
5. When dealing with dangerous people/projects that give so many warning signals, always ask for payment first. Here they were tellling me they'd pay me like a month later so another warning signal. They wouldn't have paid me first.


Ok I'm going to take a deep breath now.
If someone wants to share some words of confort, tips or similar experiences I'll be grateful.
Have a nice weekend all!
Last edited: