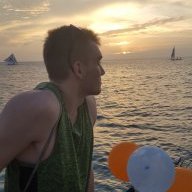 Silver Contributor
Read Fastlane!
Read Unscripted!
Speedway Pass
User Power
Value/Post Ratio
191%
Nov 23, 2018
300
573
Hello
INSIDERS
and MJ, here is the short intro about me with highlights:
———
22-year old International student residing in Vancouver B.C., Canada. Originally from the coldest city in the world, "Yakutsk" (Russia), where I've spent my childhood and high school years. Been competing in swimming throughout the high school, but later decided to quit to focus on education; love skiing and a fitness-junkie.
Moved to Canada at 18 y/o right after high school to pursue the "scripted" slow lane path of mechanical engineer.
Got interested in the self-development books in university, which actually planted a "seed of doubt". Played in the "entrepreneurship game" in university and barely passed all my classes while slowly losing interest in the formal education and all the scripted dogma, like "get job, sell your life for weekends and die"
Have a cushy remote job and plenty of free time right now.
0 business experience besides failed Shopify store, flipping craigslist items and failed attempts at trading stocks (was looking for shortcuts to get rich)
———
Long-term goals:
get Canadian PR and establish Fastlane business; quit my day job and travel the world
Short-term goals:
Pick an idea and go all in.
At the moment I have 4 business ideas, 2 of which revolve around the fitness industry, and other 2 are small accessories for electronics. Implementing one of them in my opinion can significantly skew the value of other competitors and establish
productocracy
, the rest are just OK.
I have a hard time choosing
one idea
and going all in. Right now I am just in a vicious cycle of action faking, re-reading MJ's book
to avoid taking any steps
toward business creation.

How do I get from "Idea stage" (analysis paralysis) to "Execution stage" and axe all the mental barriers in between?
I am thinking of posting this idea to the "General discussion" of
INSIDERS
forum and seeing what feedback I can get
Last edited: