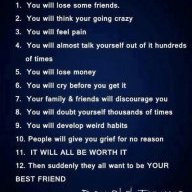 Bronze Contributor
Read Fastlane!
Speedway Pass
User Power
Value/Post Ratio
147%
Jul 8, 2015
150
221
43
Hi all,

Just a semi rant/little bit of self loathing.

I am your normal 35 yr old, sidewalker-mid 30k job, house,friends and decent enough social skills.

I am currently single but quite proactive on a number of dating sites and I can get laid without too much effort.

However, Change is required after my last couple of dates..in particular the last one.

She was quite honestly a knockout and the dream woman, who could quite easily do some modelling and I think we got on pretty well. The date went fine and we've been texting since so I know she didnt think i was a complete tool.

Whilst on the date, we were talking about likes, dislikes and interests, hobbies and life experiences-It was then that I realised that I have no sense of conviction about whom I am, and bar some travelling I done back in my early 20's, I have lived a pretty mundane existance for the past 10 years.

Off course I was able to blurt out how I like to keep fit by going to the gym (and I do) but outside work and a couple of hours in the gym per day, I literally have no real interests or hobbies and worse of all..I dont feel strongly about ANYTHING else in particular..I'VE NO IDENTITY OR CONVICTIONS IN MY LIFE!!.. I even use other peoples misfortunes or behaviours to sneer at when trying to be funny.

Has anyone else experienced this or been there and went about rectifying whom they are as a person?

As I said earlier, I am the classic sidewalker whos literally one paycheck from broke, who has aspirations to make more money but never bloody does.

I would love some thoughts of your thoughts people.