Contributor
Read Millionaire Fastlane
Speedway Pass
A few days ago I was reading The 4 hr workweek by Tim Ferriss.
I'm sure most of you have read it.
Instead of saving up 200k to buy a ferrari, he says you need to finance it to smaller monthly payments.
That same day I was looking to rent a ferrari/lamborghini because I read an article of MJ about living your dream for a day.
When I was in the gym that night this crazy idea just popped in to my head.
If you finance a ferrari/lamborghini/another exotic and have other people rent it for a few hours a month, you can actually drive it for free because the people who rent the car will pay for the monthly payments.
I was skeptical but I decided to run some numbers to see if it actually worked.
Here's the result: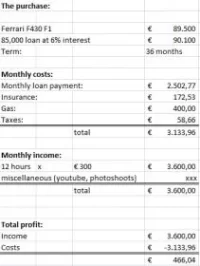 I reviewed some of the rental prices of other businesses in The Netherlands and the most recent ferrari you can rent is the Ferrari 360 for €250,- an hour.
So €300/hour for a Ferrari F430 seems like a good deal.
Buy a go pro, get a youtube partnership and you can make some extra money.
Is this actually possible or am I overlooking something huge?!
Can I really drive a ferrari for 28 days a month(rent it out for 2 days) and make money?
BTW, I know car depreciation is left out this example.
I wasn't really sure how much that would cost a month, but the car is 5 years old which means it doesn't depreciate as much as a brand new car.
This graph is an excellent example for car depreciation
Can you just rent the car out more often to make more money?
Please poke some holes in this plan or point out the flaws and tell me how stupid I am
(Not a native english speaker so be gentle on grammar/spelling errors.)
Don't like ads? Remove them while supporting the forum. Subscribe.