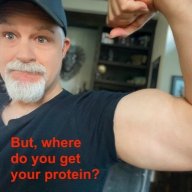 I followed the science; all I found was money.
Staff member
FASTLANE INSIDER
EPIC CONTRIBUTOR
Read Rat-Race Escape!
Read Fastlane!
Read Unscripted!
Summit Attendee
Speedway Pass
User Power
Value/Post Ratio
426%
Jul 23, 2007
35,953
153,056
Just an FYI, if you see a thread PREFIXED with
INTRO+
(versus just INTRO) it means that a
new user introduction
that features
MORE
than just hellos and introductions.

It might contain details about a process and/or feedback about a process...
It might contain actionable advice...
It might contain something significantly worthy to be read outside of "I'm new here."
It might contain a story of significance that has an important lesson...
In other words, if you're not into saying "hello" to new members, the
INTRO+
threads might be worth a look because they contain a deeper dialogue with some additional insights beyond "hello."
If you come across an INTRO thread that should be a PLUS (wow, others should read this!) feel free to TAG myself or a moderator so we can appropriately PREFIX.
Thanks!