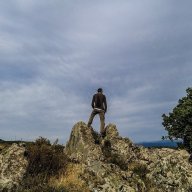 Contributor
Read Fastlane!
Read Unscripted!
Hi all!
After reading the book M. Fastlane, I understood that I walked on the sidewalk for many years like a sleepwalker.
I read the book 3 years ago and keep reading it whenever I need inspiration.
So, I started to improve my internet-marketing skills.
I want to create my own business that would allow me to help other peoples.
I am learning to change my mentality and I start my first micro-business test FROM ZERO: I self-published a paper book with the intent to help people to solve a real problem.
I wrote the book tailored to the real need, and
I'm selling hundreds of them right now.
This is just a test that has not made me rich, but it is only the first step.
In the meantime I've sold my rights to a publisher and I'm looking for a new business idea.
This is my challenge now.
I love reading, learning and studying.
I like to test myself and face new challenges.
I want to change my life according to my desire, I just need to find the right way.
I will find it, I'm sure.