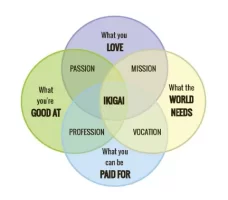 The Japanese Ikigai is a figure of four vertices, where one is the passion, the other the capacity, the other the need that the world has and the other the money.
This Japanese concept says that if we manage to do something that contains these four things, we will live with ikigai, which is a happiness that makes you get up every day from bed.
Many authors touch every corner, for example Keller, the only thing, says that by means of passion, dedicating time to that passion comes to skill, and in that skill economic results are achieved.
Other authors, such as Collins, a book about Outstanding Companies, say that they all looked for their hedgehog concept, which basically was to find out in which product or service they had the chance to be the best in the world. And he gives as an example that his wife reading the newspaper, he said ... I could run marathons, I think I can be good at that ... and a year later I lived from that.
Also Cal Newport in book ... Be so good that they can not ignore you, talk radically about this. The importance of becoming better and better at what we do until we start generating economic results.
For the corner of the "need of the world", this demarco Dj, and other authors that are recommended in the fastlane bookstore. By means of solving problems, meeting needs, helping, and being useful, we achieve our purposes.
And the last corner is "money". Goldriatt author of the betseller "The goal" tells us that every company or organization has as goal # 1, to make money now and in the future. And it tells us that productivity is measured in terms of its one action that leads us to earn money now or in the future it is productive, and if it is not, it is unproductive, basic.
In Japanese ikigai he proposes that we find some activity that covers these four elements .... Many authors propose each one with their approach to start from each corner ....
I think you can exploit each of these corners, seeking to reach the "ikigai" environment, and thus live fully every day.