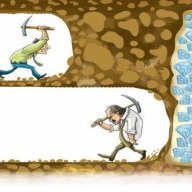 Never give up
FASTLANE INSIDER
EPIC CONTRIBUTOR
Read Fastlane!
Read Unscripted!
Speedway Pass
User Power
Value/Post Ratio
464%
May 1, 2011
7,008
32,539
I
love
to define myself as a free thinker. I follow my own path, make my own conclusions and trust myself.
The truth is, I've been fooling myself the entire time.
And if you believe you're not following the herd, chances are you're fooling yourself, too. I'll explain this with a recent example from my life.
Over the past couple of months I've been learning as much as I can about investing. I've been spending several hours a day reading about this stuff from a wide variety of sources to discover all the pros and cons of different investment vehicles.
When I woke up today, it dawned on me that
during all this time looking for an investment opportunity for myself, I didn't think for myself. I let the other guy think for me.
Most people who enter the investing world decide to invest in ETFs, bonds, or maybe in a rental property just because these are all common choices. However, behind their decision there's usually a successful investor who they respect and want to imitate. Warren Buffet said invest in ETFs, so they invest in ETFs. They respect Robert Kiyosaki, so they go into
real estate
. Or MJ shares his money
system
in
Unscripted
, and suddenly their investment world constricts to the few choices made by MJ.
It's understandable. You don't know much about something, so you listen to somebody who does. But the truth is,
nobody's perfect and your chosen expert's choice might not be a good choice for you. They might be wrong, too.
There are
real estate
billionaires and there are stock market billionaires. Some people will tell you that the stock market is overvalued, yet there are still guys making a killing there. Some will tell you there's a
real estate
bubble, yet there's always somebody making money this way. Then there will be people saying that both the stock market and
real estate
are useless and they invest in something entirely else.
Granted, some investment approaches are indeed dumb and there are certain rules that you need to heed no matter what, but there's more than one way to skin a cat.
Switching One Dogma for Another
Now, back to my story. I didn't think for myself because all I did was
switch the mainstream financial dogmas for the dogmas of several investors I respected.
@GlobalWealth
said that the stock market is overvalued so I shouldn't invest there. Instead, I should follow his strategy of acquiring apartments for short-term rental apartments all over the world even though I'll probably never travel even half as often as he does (please note that none of these people specifically told me to do so; it's just a figure of speech).
@SteveO
prefers direct
real estate
ownership, so REITs are out.
@MJ DeMarco
says that you should be as liquid as possible, so I should avoid
real estate
and stick to income-producing vehicles only. Simon Black prefers investing in private companies and agriculture all over the world so I should buy farmland in Chile. Peter Schiff likes Australia, so I should buy Australian stocks and hold the Australian currency.
All of these guys are smart investors and know what they're talking about, but suddenly I'm out of options because all the advice is contradictory. And worse,
I stop asking myself what I personally think and instead I seek what another guy thinks about it and do what he says to do
. If, say, Peter Schiff recommends investing in CHF, I don't ask myself why - after all, Schiff says so, and he can't be wrong, right?
This way, I don't think for myself. I follow the herd, albeit a different one that the mainstream one.
How I Got Fooled That the World Is About to End
I further discovered that my main filter for the best investment opportunity was motivated by the belief that the world was about to end. I'm optimistic about the future, but somehow this belief still anchored itself in my head. This made me believe that the only worthy investment is
real estate
because it exists in the physical world. And you know, the world is about to collapse and soon there won't be Internet, electricity, banks, and the stock market. Stock up on
real estate
before they pull the plug.
The objective truth is that the world today is increasingly more digital, and if it were ever to revert, it would be the contents of your pantry that would be valuable, not the pieces of paper proving you own a certain building (which, by the way, would be as worthless as your stocks or bonds). I should have learned how to invest in canned food, not
real estate
.
And brainwashed by all this, I not only stressed myself out preparing for the incoming collapse, but I also forgot one important rule:
you should make investments that are compatible with you, not with the other guy
. Upon this realization, I understood that my thinking process wasn't my own. I would invest in the
real estate
industry because some guys like it and believe the world is about to end, and not because it would be the most productive investment for me.
I'm still not sure which investment vehicle to choose, but I know one thing: I'm going to think for myself and invest my resources in what I personally believe in, not what other investors believe to be the right choice.
Don't Outsource Your Thinking
If you often find yourself looking for specific advice on what to do, chances are you aren't a true free thinker, either. There's a difference between looking for information to educate yourself about something (like, say, how to prepare a proper lease contract) and outsourcing your thinking process by seeking what an expert has said and blindly following his or her advice without running it through your own filters.
It isn't limited to investing only.
You might follow a specific diet just because a blogger you respect writes about it - even if you don't really like certain aspects of the diet (and I mean the subjective aspects, not the objective science-based nutrition principles).
You might follow a specific workout because of some fitness guys proclaiming it the only effective approach - even if you hate it (I did it for a long time and refused the thought that an entirely different approach could be as effective, if not more, than the one I was following).
Or you might ask here on the forum if your business idea is viable and stop working on it simply because one or two random guys said they don't like it.
Or pursue e-commerce just because
@biophase
is doing well with it.
Or get into self-publishing because
@ChickenHawk
quit her job thanks to it.
Or avoid a B&M business because
@Vigilante
doesn't enjoy managing employees.
They are all smart guys, but their preferences, strengths, and backgrounds are completely different than yours.
I'm not saying don't listen to them - learning from them as much as you can is obviously a pretty smart move. I just want you to be aware that blindly following their advice might not always work for you, particularly if you never ask yourself what
you personally
think about it. This can lead to dangerous lazy thinking habits like "if X said so, then it must be true."
If you want to be a free thinker, accept that
freedom comes with risk
. Not all your decisions will be right, but so won't be the decisions made by the people you follow. Beware the dangers of dogmatic thinking, regardless of whether you blindly trust the mainstream experts or those who swim against the current.