Bronze Contributor
FASTLANE INSIDER
Speedway Pass
User Power
Value/Post Ratio
163%
Nov 26, 2014
80
130
28
Need to take your product from a napkin sketch to reality? Not sure how to make that happen?
LOOK NO FURTHER!!
As a Detroit native in the heart of manufacturing, "Engineer This" will be your personal engineer and product marketing consultant!​
@MJ DeMarco says: "Engineer This Is one of my personal favorite services!"
@million$$$smile says: "I will ABSOLUTELY use Ian at Engineer This again in the near future. This guy can help anyone bring your concept into reality."
@Mikkel says: "Ian has done a phenomenal job, going above and beyond what I had expected. The changes made I had not even thought about saving me lots of money in the end. On top of that, he also provided me with valuable information on how to launch my product. I'll be using Engineer This in the future.
No matter what your intention may be, and no matter where you are in the process, my skills and #
INSIDERS
knowledge WILL take you to the next step! If this is your
FIRST
Product launch, Read On!
- NEED a Realistic 3D Model and Render to Generate Pre-Sales for your new business? OK!
- NEED Tooling Designed or Stamping dies created? You Got It!
- NEED a 3D Printer Friendly Prototype? I'm On It!
- NEED a Napkin Sketch turned into a 10,000 yr production run? Look No Further!
At Engineer This, I offer guidance and consultation aiding you on your product development journey, even if you just started! Not only a design house, but I'll also walk you through a proven plan to get your product on the market. From your idea and napkin sketch to market testing and product validation, I have the marketing know-how to explain how to run a successful Pre-launch campaign and how best to apply it to your product. An hour-long consultation is provided for $100 where we will talk about ideas on additional product #ValueSkews and go over your marketing strategies, where I will assign homework for you. Then we get cracking on your design!
Book a Consultation here
, and Recieve my Product Launch Plan included too!
WHATEVER YOU NEED, I'm here to assist! I work hourly*, and each job will be treated like my baby. The sky is the limit, with nothing too big or too small! I enjoy a challenge, but if I cannot foresee my skills to your benefit, I will let you know right off the bat!
With 6 years of experience working as a Product Designer and Manufacturing Engineer, I know how products are made! All of my work has been in connection with suppliers, fabricators, and machinists, so I know exactly what they need in blueprints, and how to design to limit fab and machine time - SAVING YOU MONEY!
IF YOU HAVE A PRODUCT IDEA... Any idea! And want to manufacture it... I'M YOUR PERSONAL ENGINEER!
-I will consult you about your product idea, ways to add value skew, ways to solve pain points, and ways to market it
-I will educate you on marketing and design, sending you a custom product launch plan to get you an investor too
-I will 3D model your product in Solidworks (Professional CAD Program)
-I will create beautifully realistic Rendered Pictures of the model you can use to post on your website or
social media
to gain pre-orders for a Pre-Launch or Micro-Testing markets
(My Most popular service on here)
...
-I will re-design it to be manufactured in the most cost-effective method
My newest project from
@Mikkel
he loved the result! He really took my marketing advice and ran with it!
A finished project from
@OutofPoverty
was quite the challenge, modeling fabric was new to me! He took my product launch advice to heart and is making big steps!
CHECK OUT this fun project that I completed for a fellow Fastlane aficionado
@MaxinVegas
.
He disclosed his ideas, along with his preferred dimensions for the product, and let me run with it! The design looks simple, but that is where my EFFORT, KNOWLEDGE, and EXPERIENCE come into play. I immediately recognized that for this product, I could design the whole thing out of folded sheet metal, and in turn vastly REDUCE the prototype COSTS, along with minimizing individual part count, welding, and special processes. Four hours into a design, I made
@MaxinVegas
a very happy customer!! He can now present beautiful renders on his
social media
to start collecting pre-orders AND he's coming back to do the blueprint drawings when it is prototype time!
Here's another I completed for
@O1i
He challenged me to create a better version of a product he thought could be #valueskewed
He sent me this sketch! and I made this!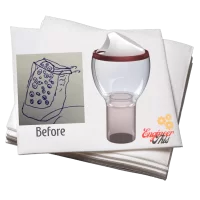 Here's a recent example of a manufacturing drawing a supplier needed from @million$$$smile it worked great with no revisions needed!

Now I am looking for my next challenge!
Book a Consultation here
! Or if you know what you need, PM me!
LET'S GET STARTED! What's the worst that can happen? I say your idea sucks, and tell you how to improve it? Win-Win! Don't have doubts, I'm great at this... Talk to me, I love product design, I enjoy talking about it, and love to hear new ideas, no judgment, just creativity
*Engineering houses charge upwards of $200/hr,
MY FIRST FIVE CUSTOMERS I WILL WORK FOR $50/hr
, after that I will charge $75/hr - subject to change
Edit: Only 0 spots left!! $75hr is my Rate. See more completed jobs in the comments below! PM me!!!
Last edited: