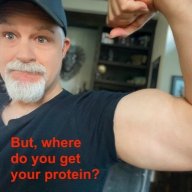 I followed the science; all I found was money.
Staff member
FASTLANE INSIDER
EPIC CONTRIBUTOR
Read Rat-Race Escape!
Read Fastlane!
Read Unscripted!
Summit Attendee
Speedway Pass
Jul 23, 2007
34,951
138,009
Tell me, is this any different?
You just made up your mind that you want to be GOOD at something.
Ultimately you decide you want to be a
world-class swimmer.
You go to a
swimming forum
.
Most people at the forum are swimmers. Some are even world-class. For the most part, the people at the forum are in the pool and swimmers. They're better than average.
As such, you post a thread and ask the swimmers at the forum, "
How do I succeed as a swimmer?"
(How do I go Fastlane??)
Here is how the forum regulars respond:
One swimmer (he was the best in college) says: Eat, breathe, and shit swimming.
Another swimmer (he was an alternate in the Olympics) recommends a strict macro-diet perfected for swimming. He gives you the dietary formula.

Another swimmer (he once trained with Michael Phelps and heard a lot of stuff) says train, train, train and get used to 6AM's in the pool. He also recommends a series of weight routines to do at the gym.
Another swimmer (he won a bunch of stuff in his college and still competes today) recommends getting a job as a lifeguard on a beach with rough swells, as well as several books by top swimmers, written years ago, but still relevant today.
After hearing all this advice from people WHO ACTUALLY HAVE HAD SUCCESS SWIMMING, you bounce back with...
But I don't like dieting!
Weight routines at the gym? Not my passion!
But I don't like the water!
I don't like getting up at 6AM!
I can't hold my breath very long!

Reading ain't my thing!
OK, now that I've said that, TELL ME HOW TO SUCCEED!!!
Will you ever become a world-class swimmer?
Nope.
Entrepreneurship is no different.
When you come here seeking answers but don't like the answers, don't blame us you can't succeed.
You can't be a world-class anything by skipping the world-class effort.
I bring this up because there are just too many damn people here who think getting a job is below them. They think a job automatically means,
Oh no, Slowlane!
Then, they besmirch people with a job and making a living, and yet live at home with their parents and consume goods and services bought by someone with a job.
A job is jumping into the damn pool and training.
A job is responsibility.
A job is learning.
A job is exposing yourself to the problems of the world.
There is no f*cking shortcut. There is no f*cking list. There is no way to win a Gold Medal in swimming when you abso-f*cking-lutely refuse to jump in the pool.
Do the damn work. And in entrepreneurship, that actually might mean getting a job and doing loathesome work.
And then set your damn expectations.
The damn work isn't fun, passionate, or designed to be easy.