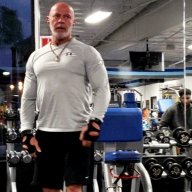 Platinum Contributor
FASTLANE INSIDER
Read Fastlane!
Summit Attendee
Speedway Pass
User Power
Value/Post Ratio
200%
Feb 12, 2013
1,839
3,681
This still sounds crazy! Who does this? Especially at my age of nearly 60 yrs old. Interesting that the older we get, the more we realize we have less road in front of us than behind us. In reality, that's not always true. We never know when this life will end and the next one begins.
My wife and I decided after several trips to Sedona, AZ that we wanted to live there. In the Fall of 2019, we listed our house for sale(after putting in a LOT of work on upgrades for months). We closed at 10 am on February 6th, 2020, and were on the road at 11 am. Everything we owned was packed into our SUV. We had a destination but no time frame. We had no jobs lined up. No business plan. No place to live. We really didn't know if we'd find a place to live in Sedona, but that was the target.
We were on an ADVENTURE!
The morning we left Michigan it snowed 4". We dragged the last of our belongings that didn't sell through the snow for curbside pickup and we were gone.
We headed South with a general route planned out. The snow followed us all the way to Kentucky where we spent our 1st night. We stayed mostly at Airbnb's. We made many friends and learned a great deal about every town we spent time in.
We visited so many cities and small towns and met so many amazing people. Here are just a few highlights:
Walked down 1,000 steps in the caves in Kentucky.
Visited Elvis's Graceland where I talked with Tim, a man who met Elvis several times. I know this sounds a bit woo-woo, but Elvis's presence was very strong.
We went from 70-degree weather up to a snow-covered ski lodge in New Mexico via the longest non-stop cable tram in the U.S. on the same day.
Visited family and friends. My brother-in-law passed away after that so this was a blessing.
Attended Joel Olsteen's mega Lakewood Church in Texas. After talking with an usher, he seated us in a roped-off section in the 3rd row next to a professional basketball player. I still don't know who he was even though they introduced him. Fascinating business!
We drove through mountains, forests, and deserts.
We visited aquariums, national parks, and the San Diego Zoo.
We mediated on a remote part of a beach by the cliffs on the Pacific Ocean.
We visited Nashville, Memphis, Little Rock, Shreveport, Houston, Dallas, Albuquerque, Sante Fe, Tombstone, Tucson, Phoenix, San Diego, Scottsdale, Truth or Consequences (it's real), Yuma, Elephant Butte, and dozens of other towns.
We took a private tour of a Tiny House manufacturing plant outside of Dallas.
We met with friends on the Forum in Scottsdale and Yuma. So special and very grateful to spend time with them.
After 5 weeks on the road, we signed a lease on a newly built apartment. We were the last ones they accepted as Covid was becoming a thing. Two weeks later….everything shut down.
Awe Hell!
Plan A was to buy a house and do Airbnb. Plan B was to buy an online business. Neither happened. Shit!
The Business​
Friends of ours were closing or selling their 10 yr old Segway tours business in Sedona. We negotiated but did not come to terms. After a while, I had to do something so after a shit ton of research, we started our own tours and rental business with Segways, Ebikes, and Escooters. We capitalized on what Sedona is known for in an ECO-friendly manner which is very important to visitors.
Sedona Tours & Rentals was born​
Under our LLC we started our business. We were profitable our 2nd month and have been since with sales & profitability increasing month over month. By the end of month 5, I realized our proof of concept was solid.
I still haven't taken a paycheck. I'm living off tips. My Wife took a full-time job with the City of Cottonwood in the finance department. She can't wait until I hire her. She's great with numbers and thank God because I suck!
After that 5th month, it was time to get serious. Bookkeeping, tax professionals, and more. Two weeks ago, after advertising for 5 weeks, I have my 1st amazing Tour Guide.

What I learned
​
"Think Big. BIGGER!"

I write this consistently to remind myself the only limits I have are the ones I set. There is no "box". No "ceiling". No"spoon" as they say in the Matrix movie.

I do not want to be a full-time tour guide or a strapped business owner.

I want to be the CEO of many businesses that benefit and betters people's lives. This is the

goal

. All during this journey, I've been thinking BIGGER. How do I scale this MF'er? I now have a plan to scale one part of this business which I will not reveal yet because of the sensitivity. Whether it works, or not, I will share it on the

INSIDERS

Forum.​

Research. Do not get caught in the endless circle of research without making decisions and taking action! This is key. I don't make all the right decisions but I do take action.
Build an Amazing Team. NOBODY can start or run their business alone. I have an amazing team!


- Google Ads professional.

www.AdvertiserAdvisors.com

- Website Designer

- Brand Professional

- Graphics Designer/Copy Writer who also helps answer the phones.

- Tax and bookkeeping company.

- Banker - I have a successful, local retired mentor through the SBA. He's amazing. And Free!

ALL were referrals.

PM me if you need a referral.​

My

goal

is to lift up everyone I work with so they can make more money, be more fulfilled, have more fun, and overall improve their lives.​

Know and define your brand. Our company is focused and we know who we are. Our company is a separate entity, like a real person. It has a Personality. I can't emphasize branding enough. Everything it does from hiring, office design, product design, customer interaction, and more, is consistent. Whatever businesses I start from this point under our LLC will have the same message.
Read other companies' and successful entrepreneurs' books. LEARN.
Get your books, records, taxes, etc. organized as soon as you prove your business is viable. Playing catchup is a bitch!
Journal. I have 16 private and business journals. Some of them are not active as they are yearly. I use Penzu so I can search for specific things from time to time. I also store them locally as a backup.
Never enough time and always 100 things on my 'to-do list'. I use Trello to help keep me organized. I also constantly write on yellow notepads. Instead of checking off things, I write "WIN".
Leverage. Use other people asap to leverage your time so you can stay focused on what you do best. Contract or hire people that are experts in areas where you suck. I suck at a lot of things.
Don't take anything personally. I have thick skin by choice. I constantly ask people for their opinions and ideas. People are mostly kind and slow to criticize or critique. It's the criticism I dig for.
Experience. Emotions. Feelings. People want to have great experiences, positive emotions, and good feelings and will pay you for these no matter your business.
Efficiency. I'm obsessed with making my customers' experience super easy and my business super-efficient. No wasted clicks. No wasted energy.
Haters. No matter what business you're in, you're gunna get them. Hell, even The Rock has haters! I received my 1st complaint via letter regarding our training practices at our office and another kind of nasty voice message from a neighbor upset with us giving tours through their neighborhood. I immediately called the owner of the business that received the complaint letter and she was great! We worked out a different area for training and all is good.

The nasty voice message….She is 78 yrs old and an unhappy person. That's sad. - Update - I met and had great conversations with the President and VP of the HOA this lady lives in. No call to her!
Think. Thinking is hard. Memorizing and learning are easy. I journal about trends, trying to gather data and predict what the future will hold in business. I take quiet time to think about my business currently and in the future. This helps determine my direction.
Personal Note:
None of this is about ME. It's not
all
about the money. It's about my WHY's. It's about bettering my life situation so I can help others. I am focused on serving people and in return, they pay me and feel great about it.
Starting a business is spiritual. It's creating something from nothing. It's art. The Toltecs say we are all artists and the art we create is the story of our life.

Create art. Create your life story the way you want.​
Last edited: