New Contributor
Read Millionaire Fastlane
Hello Fastlaners,
I am 26 years old and I am in the first year of a bachelor's degree in business administration (I know, it's late, but before I did other things). In this school we do a lot of theory and more than anything else useless things.
Now, also thanks to MJ's books, I have studied by myself the IT sector: more than anything I am learning to program web, and I have bought courses on Udemy, books, etc. And I find it very interesting. In fact, I haven't been in class for two weeks. Oops ... and I don't miss it.
Now the question is this: I was presented with the opportunity to attend another school in September, lasting two years (a degree similar to the bachelor but slightly "inferior", to become a web developer. Profile that I find interesting because yes It would be a very practical school where you learn to program hard.
What do you think dear fasterers? I'm a little in difficulty. I don't know whether to leave university, continue my projects over time that I have available until September and then start that training in IT or continue here where I am.
I do not believe that going out (if all goes well) at school at 29 with only theory in mind is useful. Then soon I will launch my web hosting service..... What should I do?
Thank you!!!!!!!!!
Here you can see the description of this diploma: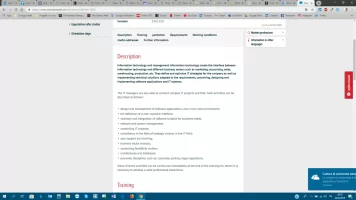 Don't like ads? Remove them while supporting the forum. Subscribe.