just tell me the f@$&ing Price!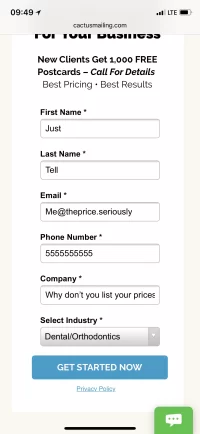 Getting high bounce rates? Low conversion rates?
Maybe it's because you don't list your prices.
I know I'm not the only person out there who immediately hits the back button if you make me call for a quote. If you sell a product or service that can easily be quoted on your website, list your damn price.
It's not just me
Embrace the Controversial: Why You Should Publish Pricing on Your Website
There are many other ways to follow up with leads. Do retargeting, it's effective. But don't make me call a call center, give my info and then wait on hold for a consultant. Because I will keep searching google until I find the service that gives me the price.