Platinum Contributor
Speedway Pass
Feb 16, 2016
1,020
3,042
770
38
So I came across this post on Twitter (see the screenshots below). A coder reverse-engineered the app and claimed it was a spy tool...
At first, I was sceptical because when you submit an app to Apple's App Store - they ask for the app's source code. If the coder is right - Apple's engineers would have spotted the security leaks too.
But then I came across this article:
Warning—Apple Suddenly Catches TikTok Secretly Spying On Millions Of iPhone Users
It's a real shame because I had high hopes of using TikTok ads.
What do you think?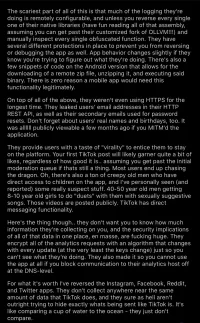 Don't like ads? Remove them while supporting the forum. Subscribe.