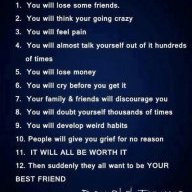 Bronze Contributor
Read Fastlane!
Speedway Pass
User Power
Value/Post Ratio
148%
Jul 8, 2015
150
222
43
Hi,
Not sure if this is the right section for posting but just wondering if any of the fastlane readers have used hypnosis to achieve any of their
goals
?
I know of 2 seperate people who would have been quite skeptical about this kinda thing and they successfully quit smoking and the other lost 4 stone after attending a 121 hypnosis session.
Looking into this further and there are ones that offer for example motivation improvments-Yes I know this is probably sidewalk thinking and the guy doing the sessions is the only fastlaner but I am actually tempted to give it a go-Mostly because I am getting increasingly pissed off by not achieving and doing bullshit things like reading yet another business good and doing nothing about it at the end.
Has any forum users tried hypnosis? If so what was your impression? Did it work?