Some Profound Quote Goes Here
Read Millionaire Fastlane
I've Read UNSCRIPTED
Jan 26, 2016
576
1,126
381
28
Here's a quick story of how I made $70 from a $1 investment in 5 minutes.
I've been on this forum for years and I've read almost every thread there is. I still haven't created my fastlane ticket but I do try to use the advice on this forum whenever possible. The person that help me turn $1 into $70 is
@Lex DeVille
after reading his copy writing threads. For a few months now I have been practicing my copy writing skills and I have done some freelance copy writing on up work.
As a side gig I flip items I buy from thrift stores. One day I walked into a thrift store and there was this rainbow color monkey for sale for $1. I bought it and took it home. It was sitting in my house for a few months. I never got around to posting it on ebay. Finally I did post it. In all it took me 5 minutes of handling the item from the moment I picked it up, payed for it and took pictures of it.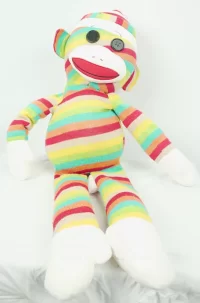 Before posting any item on Ebay I checked how much each item has sold for in the past. This monkey has sold in the range of $20 to $40. I knew I could sell it for a lot more with a little help from writing good copy. Here's how my listing looked once it was it was live.
The headline that I used was a description of the monkey, the brand and the keywords Gay Pride because the LGBT community use the rainbow as their flag. I set the price to $99.
A few hours later I received an offer for $80. I accepted it right away. After shipping, paypal fees and Ebay fees I made a profit of $70.
I packed the monkey and shipped it. I waited a few days before posting this thread just in case the buyer had buyer's remorse and wanted a refund. It hasn't happen. Now I'm $70 richer.
The other similar listings don't have any copy writing in them. They just post what the item is. I believe it was copy writing that made me an extra $30 from the other sellers.
Don't like ads? Remove them while supporting the forum. Subscribe.