Administrator
Staff member
EPIC CONTRIBUTOR
FASTLANE INSIDER
Read Millionaire Fastlane
I've Read UNSCRIPTED
Summit Attendee
Speedway Pass
Jul 23, 2007
31,156
116,049
3,751
How To Get On the Cover of @Forbes Magazine:
Don't Take Advice from Forbes.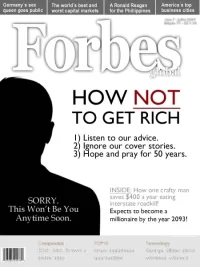 OK first thing's first: I like Forbes magazine.
It's a magazine I read and recommend as it features the richest of the rich and has content with a strong entrepreneurial focus. Unfortunately, Forbes runs several content channels that fall into the bullshit hypocrisy of trying to tell people "
how to get rich
" by placating themselves to the trillion dollar financial industry.
So let me call it as I see it: If you ever want to get on the cover of Forbes, you won't get there by taking their advice.
While they're telling you to
play
the game, the personalities that grace their cover
serve
the game.
In other words, want to be Forbes' next cover model?
SERVE
the financial industry,
DO NOT INVEST
in it.
If you're confused at what am I referencing, take a look at this video by Forbes.
It's aptly titled "
How to Get Rich…
" and features your usual financial industry megaliths, like hedge-funder Meredith Whitney and John Bogle of the mutual fund giant, Vanguard.
I'll spare you 5 dreadful minutes of watching: It basically advocates giving up your financial future to the stock market and the job market, artfully brewed in with a bunch of frugality and penny pinching, deferred living, mediocrity, and of course, the holy grail of all billionaires-- 401(k) investing.
*Cough* *Cough*
In other words, your innovative and guaranteed method for getting rich is to trust Wall Street and the unpredictable markets that serve them. Yup, the soup-De-jour of Slowlane theory: The 50 year plan of work (assuming you stay employed) the 50 years of stock market investing (assuming the market never crashes) the 50 years of patience (assuming you don't die) and then of course, at 70 years old you suddenly will feel a burst of energy and finally get to enjoy your millions (assuming the Federal Reserve hasn't hyper-inflated it).
Mr. Bogle even goes as far to say that you shouldn't even look at your 401(k) for years. Yup, ignore it folks. Pay no attention to that man behind the curtain!
Wow. That must be Money Management 101, Slowlane style!
But I guess that's pretty easy to say when you're nearly 85 years old and the founder of a multi-billion dollar mutual fund company. Sorry John, but I like to watch my money, especially when I hand it over to a billion dollar corporation with fiduciary responsibilities.
Now for the interesting part of this story.
It isn't the video or the advice, but that it contradicts everything a Forbes success story (supposedly) stands for.
Now take a look at this Forbes article.
The Youngest Billionaires Under 40
http://www.forbes.com/sites/ryanmac/2014/03/03/the-worlds-youngest-billionaires-2014-31-under-40/
Take a minute or two and scan through the list.
Read their bios.
Read their stories.
Notice the pattern, but more importantly, notice what is
MISSING
.
See any mention of 401(k)s? See any mention of "I saved my nickels and dimes for 50 years? " See any mention of indexed mutual funds?
The Forbes Billionaires all got rich through ENTREPRENEURSHIP (either directly or indirectly through inheritance) and not specifically anything mentioned in the Forbes video. Does the advice regurgitated in the video actually come into play for
ANY
Forbes cover millionaire or cover billionaire?
The truth is… IT DOESN'T.
By backing shit content like this, it appears that Forbes doesn't want YOU to have any chance in hell to appear on their cover. If Forbes billionaires and Forbes millionaires don't follow the Forbes advocated method for "getting rich", why should you? Forbes personalities drive their own financial future through leveraged assets (either corporate owned or personal brands) not by giving it up to Wall Street.
The grand hypocrisy is that the people who are
RUNNING THE HEDGE FUNDS
show up on the cover of Forbes, not the people who are investing in them. Yup, the people who grace the covers are those who serve the game, manage the game, and sell the game-- not the poor saps who are attempting to use these tools as a 50 year gamble on wealth creation.
Ooooooh??? What's that I hear? Oh here it comes…
I hear Slowlaners screaming their poster child, Warren Buffet.
Please stop.
Do you seriously think Warren Buffet is a retail stock investor?
He's not.
He's an
activist investor
which means he buys so much stock he gets
LEVERAGE
and with leverage he gets seats on the board, or management control. Shall I repeat that?
CONTROL
. When guys like you and I buy stock, we get no control other than the buy or sell button at
E-Trade
and a piss-ant shareholder vote which means nothing. Does the advice in the video give you any type of control? Other than buy or sell?
Nope.
Welcome to 50 years of hope and pray.
You see, you don't need me to expose the hypocrisy.
Look at any Forbes millionaire/billionaire list and you'll see leveraged entrepreneurship, innovation, and controllable Fastlane mathematics. Not stocks. Not 401Ks. And not eye-gouging frugality.
So...
What if we helped Forbes out here and dropped a
few zeroes
and subtracted ten years?
The headline would now read:
"The Youngest Millionaires Under 30"
Think the results would be any different?
Nope.
You'd mostly have a list of entrepreneurs, athletes, celebs, and early-entry
start-up
employees. Think you'd hear about 401(k)'s and penny pinching? Maybe about some great mutual fund or dividend paying stock?
Doubtful.
And if there was an outlier that fit that description, let me give you a little sampling of what you'd hear:
"We haven't ate at a restaurant since 1999! Its so fun to eat at home!"
"We don't have cable TV or any of those movie channels! We just peep through our neighbors' windows to get the latest Breaking Bad episode"
"We walk down to the I-15 Interstate and scrape up roadkill for dinner -- it certainly saves on our meat bill!"
"Our car has 193,000 miles on it! Sure we get stranded every so often but the walking keeps us in shape!"
Folks, if you want to "get rich" and wait 50 years to find out, just like the video professes, listen to people who have a vested financial interest in your belief of fairy tales and unicorns, the belief onto which the system works.
Meredith Whitney, John Bogle, and your typical band of Slowlane gurus want you to believe that the stock market will make you rich--
because selling it makes them rich.
While I'm not uber-rich (nor do I expect to be on the cover of Forbes anytime soon) I retired a multimillionaire at 37 years old. Being able to retire young had nothing to do with stocks, nothing to do with mutual funds, nothing to do with IRAs, and had nothing to do with frugality. In other words, it had little to nothing to do with the crap spewed in this video.
Instead, retiring early had everything to do with entrepreneurship and controllable leverage, the same type of controllable leverage these financial industry stalwarts are using to
your
disadvantage.
So if this video isn't the answer…
WHAT IS?
Here are 5 guidelines that will help you avoid the 50 years of hope and pray, and give you a fighting chance to live the dream.
Ignore advice from people who are deeply entrenched in the financial and banking markets, markets that profit from your belief of the 50 year lie of "getting rich". I'd hate to see you in 50 years and say "I told you so". Don't take 50 years to find out it doesn't work, at least not as sold.


Start a business that adheres to the 5 Fastlane Commandments of entrepreneurship as identified in the book, The Millionaire Fastlane: CONTROL, ENTRY, NEED, SCALE, and TIME. This gives you the best chances are creating a successful enterprise that is sustainable, and one that changes your life forever.


Wealth is NOT created on DEFENSE (cutting expenses and mindless frugality) it is created on OFFENSE (exploding income and/or asset values).


To explode income (or asset values) you must detach yourself from TIME, in other words, detach yourself from TIME-BASED income. That is done by innovation and creative structures that exist separate from your time. Such things that immediately come to mind are product inventions, food stuffs, creative endeavors, websites, apps, and software. Making $60K/year at your cushy job and using YEARS as your wealth multiplier isn't going to cut it.


One piece of advice the video did get right was SAVING. Once your income ascends on an geometric or exponential scale, you must control your spending and never spend more than you earn. Having earned six-figures monthly, I can tell you it's easy to be enamored with the freedom to buy whatever you want. Please do not. Instead of "saving 10%", save "70%" of your income. When the big tax bills come around you'll be happy you did. If your company profited $100K/mo, how long would it take for you to become a millionaire? 15 months? Or 50 years? (Assuming you get help from your 401k friends?)
Follow the 5 guidelines above and give yourself a fighting chance to be Forbes next cover model.
Follow the video's advice and well, you can always go on that dream vacation in 50 years... assuming you're even alive.
NOTES AND DISCLAIMERS:
I am a Vanguard customer and have great respect for Bogle and Vanguard. However, I use Vanguard to generate income, not wealth.
I am a Forbes reader and generally think most of their content fits a Fastlane modality. I would even write for them pending a memory wash of this video. However after this piece, I think we can throw that idea out the window.
After I retired, I set off to become a writer, specifically, a screenwriter. However, after the success of my first book project (The Millionaire Fastlane) that idea was put on the backburner to further promote entrepreneurship, specifically, Fastlane entrepreneurship.
Don't like ads? Remove them while supporting the forum. Subscribe.
Last edited: