Gold Contributor
Read Millionaire Fastlane
I've Read UNSCRIPTED
Speedway Pass
Apr 3, 2014
736
1,515
496
38
Hi Guys, I'm back on a new mission to build a large, valuable, influential podcast and thought there would be value in sharing the process. Let me know...
If there is interest, I will continue to update over time as I progress and figure things out.
Why Podcasting?
Over the long term, I think there is tremendous value in having a highly engaged audience who you've served and provided value to (see
Spotify acquires Gimlet & Anchor
).
I believe that in business, you want people to know, like and trust you first (not exactly an original idea), so podcasting is one way to accomplish this on a large scale, even if it takes a long time, and even if you are not monetizing the relationship directly or aggressively. It's definitely not a short term play, nor do I ever see podcasting being my "main thing".
I also find having a podcast to be a great networking tool and an incredibly fun way to share with other entrepreneurs and like-minded people.
Why the Ridiculous Goal?
Why not? I want it to be as impactful and valuable as possible. I also know that it will take time. Between here and 1 million per month, I will just try to hit each intermediate goal and then immediately raise the bar so that I am always making progress and pressing.
Where We Are Now
Launched my podcast, "
Game of Grow
" on February 27th, six weeks after making the decision that it should exist
(bought the domain and grabbed
@gameofgrow on Instagram
,
Facebook
, and
Twitter
that night.
namechk.com
will let you know if your desired name is available as a url and which social channels it is available or not available on, in case you want to switch up)
In a short period of time,
the show has ranked as high as #94 in Business and #55 in Marketing
(on iTunes, the 800 lb gorilla of podcast marketplaces),
and it has also been selected at various points as
"New & Noteworthy" in Business, Health, Education, Marketing, Self Help, and Training.
It took 11 days to cross 1000 downloads, and ~3 weeks in, we are just short of 5000 downloads.
So numbers are not exactly huge yet but there is certainly momentum.
Key Success Factors to Date
Other than knowing my audience, and creating content they want to hear... (obviously the foundation)
Driving Subscribers & Reviewers has been key. You want your listeners to Subscribe and Review (and also refer the podcast to friends).
From my online research, it appears that new subscribers to a podcast have the single biggest impact on its rank, at least in the iTunes store.
While I am not exactly sure how reviews affect the algorithm, it is not unreasonable to assume that they are factored in as well... and even if they aren't, they are going to have a certain social proof effect.
So I have been near fanatical about making those things happen as much as I can.
Backstory & Focus
One night in the coffee shop after a long day of work, I found myself asking myself a few questions, such as...
"What if I placed the demand that any business I build leave every person that interacts with it better off? What would that look like?"
"How could I make it impactful at a scale I have not yet reached before?"
"How would I need to change & who would I need to become to make that possible?"
"How can I share the process with people with similar goals?"
Out of those questions comes my new podcast/project "Game of Grow", in which I will document my entrepreneurial journey.
The name is kind of a play on "Game of Thrones" plus the Game of Entrepreneurship, the journey of growth and development that comes with it, the growth mindset needed to succeed, etc.
The show is for others like myself who are working to start and grow businesses and level up.
One of my central message is that it doesn't matter where you start or where you currently are. It's about acquiring the skills you need to accomplish your goals (AKA, "Entrepreneurship is a Process" -
TMF
)
I am not positioning myself as an "expert". Rather, I make it abundantly clear that I am a student of the game and I am sharing my journey.
Instead of having all the answers, my goal is to transparently document and share the highs, lows, and lessons of my journey and bring as much value as I possibly can, hopefully producing one of the most valuable pieces of content my audience hears each week (it releases weekly on Wednesday mornings).
While I still love the App Game and will continue to talk about, teach, and execute against that, I realized I also wanted a more inclusive platform where I could help more people, and let them get to know me.
Before Launch...
Defined & refined podcast name, topic and structure
Conducted 10 calls with "perfect listeners" to help shape content
Worked with designer to create podcast artwork for tile

Didn't need to purchase equipment (already owned "Blue Yeti" mic)
Purchased & set up hosting with Libsyn (used my wife's affiliate code "HUSTLEPRO" for a free month and change... she already has a successful podcast and a relationship with them)
Set up Apple Podcast account (As well as Stitcher, Google Play, TuneIn, etc)
Had simple website created
Created social media accounts on FB, Twitter, and IG, as well as a FB group
Recorded, edited, and posted first 3 episodes
Started posting story posts to social media and emailing my list 2-3 days before to get a bit of buzz going

Launch Day
I went live on February 27th with 3 episodes and posted my "It's Live" announcement to Instagram, Facebook, LinkedIn, Twitter, and my Facebook groups, as well as emailing my list.
I also thought about all the friends, people who I knew were eagerly awaiting the show, and people who owed me favors, and reached out to them directly to ask them to Subscribe & Review.
Soon after, I also added the Podcast as a new job on LinkedIn, which caused a flurry of semi-automated messages to "congratulate me on the new job", which allowed me the opportunity to tell them about the podcast in my response and potentially pique their interest in becoming a subscriber.
I also thought about all the different channels where I would be able to talk about the podcast to people who would naturally want to hear about it, knowing that some percentage of these folks would become listeners. This included groups from college, grad school, past extracurricular activities, etc... The important thing that I looked at was that I would be able to add some value rather than just take, or I did not do it. Other than that, I tried not to leave any stone unturned, since you never know which channel will be the most fruitful.
Post Launch

I've kept things simple and continued to focus on how I can bring the most value to my listeners through the content, which channels I can add or double down on to increase listenership, running lots of crazy experiments, and, of course repeatedly and persistently encouraging everyone possible to subscribe to the show and leave a review.
With that said...
If and only if you enjoyed this post & got value from it, please do check out the podcast here: iTunes | Stitcher | SoundCloud | Web
And if you enjoy it, Subscribing & leaving a Review would be a huge help
​
Episode 6 tells the story of how Rohan Gilkes became a millionaire by starting a cleaning service
, and I look forward to sharing many more stories like this going forward.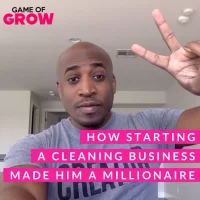 I can see a clear path to reaching 10,000 downloads in the relatively near future (perhaps in April), and 10,000 downloads per month should be doable as well, but getting to 50,000 per month, 100,000 per month, or more will take a lot of doing... I am up for the challenge, and will take it on step by step, and I am willing to share what I learn along the way.
As I said before, if I see there is interest, I will continue to update this thread as I progress closer to my goals and continue to learn more.
If there are any questions I can answer, let me know!
Last edited: