Legendary Contributor
EPIC CONTRIBUTOR
FASTLANE INSIDER
I've Read UNSCRIPTED
Summit Attendee
Speedway Pass
Jul 25, 2007
7,559
35,421
5,083
Since the 2018 meetup is fresh in the minds of many I thought I'd start the meetup history post.
This is all from my viewpoint as my memory is a little foggy. So please correct anything that is wrong.
Sometime around
2005
, members of the RDPD forum decided that we should do a meetup. One of members organizing the meetup lived in Phoenix so they decided to have it in Phoenix. Because Mr. RD happened to also live in Scottsdale and his office was in Scottsdale, the member convinced RK to let us use his office as the meeting point. As far as I remember, this first meetup was just a 1-2 hour get together at night. All I remember is meeting RK and seeing his Lambo. I also met Snowbank that night. This was the first 2005 meetup.
In
2006
, I actually don't remember anything from this meet up. I think we played cashflow during it?? I have vague memories of it being at a very small hotel, but not the Days Inn.
In
2007
, RK let us use his office for the weekend for the meetup. I remember arriving late, around 10am to the 9am presentation and the mood was very different. I come to find out later that RK basically called the people at the meetup a bunch of losers because we were to busy spending time behind our computers. Basically, he didn't believe in the internet.
This led to a mass exodus of the RDPD forum, as the meeting was in Feb 2007.
I was golfing with SteveO later that year when he told me that MJ was starting his own forum. That's how I ended up joining in July 2007.
We had all basically switched forums over to MJs so the core people wanted to keep doing to the meetup. So in
2008
, we continued the meetup over at the Days Inn. I remember I gave my first presentation on my ecommerce business that I just started 3 months earlier. (After that meetup, one of the members asked me who my supplier was so that he could sell the same product locally, LOL, you know who you are, but it's all good)
In
2009
, A group of us took over managing the meetup so I actually have all my old emails to go back to. This event happened at the Days Inn also.
This is an email from SteveO to me...
"Mike Mariani (RealOG for those that don't know the name) is drooling over
party time. Kenric and I were able to listen to his ideas over coffee the
other day. Sounds like we are in good hands here.

Kenric will make sure that we have great food and giveaways. The plan is to
spend what we take in. Mike has offered some potential assistance with
food.

Thanks everyone for your hard work!!! You are all helping us to take this
to a meeting that will be as memorable as the last few!!! Now, if we can
just get MJ to call us names... <-- Ring the SteveO Joke Bell Here

I will assume that silence on proposals equals agreement. So, if anyone
does not agree with capping the participation at 30 and setting the
registration close date on Feb 6th, please speak up!!"
Isn't that crazy, we capped it at 30 people! We also made these cool t-shirts!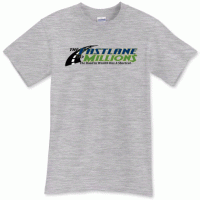 In
2010
, we got fancy, we had our meet up at the Firesky Resort and we incorporated all meals into the meetup. We had 36 people at this one.
In
2011
we were at the Firesky again. According to my old guest list, we only had 25 at this event. I'm guessing we lost money on this one.
In
2012
, we moved over to Chapparral Suites as Firesky increased their prices. I can't find anything about the number of people who attended this one. Weird?
That was also my last year in organizing the event. So the rest is from memory.
In
2013
,
@RealOG
took over managing the event. I have no emails or memory on where this event took place. I think we were around 50 people at this event.
In
2014
,
@JasonR
and Boris took over the organization of the meetup. I don't remember where it was held maybe Chapparral Suites again? I think the limit was 50 or 60 people?
In
2015
, MJ officially took over and made it an official event of the forum, I did not attend this one as I was in Australia, making it the only one I've missed so far. Happened at the Scottsdale Marriott, about 80 ppl.
In
2016,
I think the event had ballooned to 100 people and was held at the Talking Stick Resort.
There was no meetup in
2017.
Of course that leads us to
2018
... 120 people.
Don't like ads? Remove them while supporting the forum. Subscribe.