Silver Contributor
FASTLANE INSIDER
Read Millionaire Fastlane
I've Read UNSCRIPTED
Summit Attendee
Speedway Pass
I've seen a few posts like this recently from the younger folk out there, and I hear ya. I just want to share something with you that came across my desk yesterday: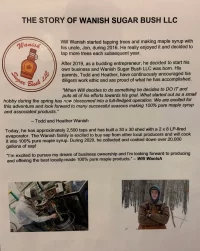 Two things:
1. This kid is 16.
2. He's been working on this idea for several years.
Know where he
didn't
start?
He didn't start by saying "I want to make
x
dollars in
x
amount of time. What business can I start?"
I get it. I made the same mistake. But you're approaching the equation from the wrong side.
This kid just freaking started man. He went for it.
Now his products are in our grocery store, and we're going to blast our audience of 20,000 people today about his story and his great syrup.
Maple. F*cking. Syrup.
Just start guys. Find someone to help.
Go on the honest search for a way to deliver something of value to someone in need
.
It gets said all the time by
@ZCP
and countless others.
The moment you get out of your own head and pay attention to others is the moment you start to live like an entrepreneur. Turn that focus outward.
NEED MORE HELP? Go here:
•
RHL's excellent post on getting started
•
The Astonishing Secrets Thread
•
@Andy Black
and his amazing posts.
Here's one that should be bookmarked by everyone.
• Just follow
@Kung Fu Steve
• There is always our Discord server
Just wanted to share this maple syrup bit because it's a cool story, and it's encouraging. Best of luck to you kids. I am optimistic about the future because of you.
Don't like ads? Remove them while supporting the forum. Subscribe.
Last edited: