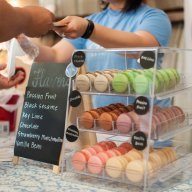 Contributor
Read Fastlane!
Read Unscripted!
Hello! Thank you for taking the time to read this post!
I have been a "
Wantraprenuer
" for a long time now, pretty much since high school, leaving college and going back several times. I have been stuck in this intrepid cycle of
wantrapreneurship
.
Think of "Great" business idea, devote hours and hours perfecting it.
Spend days/weeks/months building the business platform(I am a programmer, so most of the time this means coding a website/app/program)
Get small feedback loop, nothing near what I had built up in my head the whole time I was building this, maybe one or two sales or comments.
Sometimes, get some harsh criticism about the app and give up there on the spot, and then feel defeated for a couple days/weeks/months until a new "Better" idea hits me(Back to step 1)
More often, while working to the idea a "Better" idea will hit me and I will abandon ship and start over, damned Shiny Object Syndrome.
Well, now I want to break out of this cycle and I am bound and determined to do so. I have built a preliminary product that I would like a brutally honest review for:
themailerlist.com
Essentially this idea was born out of the family business of Wireless internet service providers.
Almost everyone in my immediate family is involved in this business. One of the more menial tasks related to advertising is selecting houses one by one from within our service area to build a physical mailing list. You can use sites like USPS every door direct mail, but with this you end up mailing hundreds and even possibly thousands of houses that are not in our coverage area. I built the tool mostly for us to use, so we could make marketing easier. It solves an immediate problem for us. We can now just drag a box over the houses we want to send marketing to, and download a list of all the houses in the area formatted for our online mailing provider.
This may be a small idea, and I have gotten "Better" ideas since I started working on it, but I am determined to see this through. How could I make this better? Is there any other possible use cases for a service like this? Don't be nice or sugarcoat this for me. I want your honest feedback.
Thank you for reading!