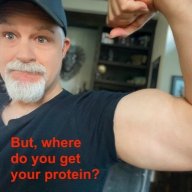 I followed the science; all I found was money.
Staff member
FASTLANE INSIDER
EPIC CONTRIBUTOR
Read Rat-Race Escape!
Read Fastlane!
Read Unscripted!
Summit Attendee
Speedway Pass
Jul 23, 2007
35,599
141,960
If you continue to do his I assume it's worth it?
Yea, but the ROI has continuously declined over the years as its more competitive for bids and requires more intense management/attention to keep ROI's steady, if not increasing. You can spend 40 hrs week doing conversion testing alone.