Administrator
Staff member
EPIC CONTRIBUTOR
FASTLANE INSIDER
Read Millionaire Fastlane
I've Read UNSCRIPTED
Summit Attendee
Speedway Pass
Jul 23, 2007
28,814
97,891
3,751
I'm happy to announce that Phase 2 of the forum upgrade is now complete.
Phase 1
was simply upgrading the software and getting the forum fully operational with a workable UI.
Phase 2
centered more on branding, style and the UI with a big focus on MOBILE optimization.
MOBILE FRIENDLY (Natively, Not Tapatalk)
As a result, the forum is far more user friendly for our mobile users, as well as faster. As I mentioned in another thread, I've surfed the forum on my iPhone and on my Galaxy Tab more in the last month than I have in the last ten years combined.
The forum no longer supports Tapatalk, so please use the forum natively.
SOCIAL MEDIA EMBEDDING (Twitter, Facebook, etc)
Finally the forum supports social media embedding, if someone posts something on FB or Twitter, feel free to post it and the forum will embed.
View: https://twitter.com/MJDeMarco/status/1130187655562584064
SOCIAL MEDIA REGISTRATION ENABLED (Twitter, Facebook, etc)
Registration now tied up with multiple platforms.
FASTLANE DAILY DIGEST
If you want a daily email with new forum posts, you can subscribe to The Fastlane Daily Digest...
INSIDERS FINALLY GET A DEDICATED HOME PAGE
(Click on the INSIDERS tab in the main navigation)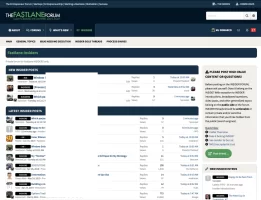 FORUM NOW SUPPORTS PUSH ALERTS (On Compatible Devices)
If you accept push notifications, you can set what you want to be pushed. For instance, I only "push" replies, but do not push likes and other reactions.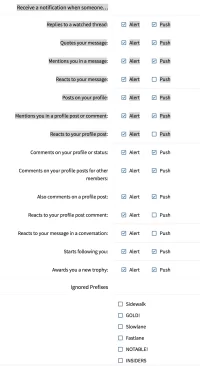 IGNORE PREFIXES
If there are any PREFIXES you want ignored, you can now set that in your profile/preferences. For instance, if anything is LANDFILLED and you have ZERO interest in REAL ESTATE, you can ignore these tags and not see those threads in your viewing experience.
BOOKMARK STATUS
As for what was lost in the upgrade, I'm sorry to report that I was not able to restore old bookmarks. If you're an INSIDER, the bookmarking function still exists (and is much more robust) but any old bookmarks were lost. My sincere apologies as I lost dozens of bookmarks. However I can guarantee this will
not
happen in the future because now the bookmarking system is a native function of the forum.
REP BANK STATUS
Currently the rep bank system is still offline, however the data that created your reputation bank number still exists. If you had a big reputation here, the forum still knows it. Phase 3 of the forum upgrade will entail digging into the REP system, including gamification stuff (awards, etc.)
PHASE 3 UNDERWAY
Phase 3 of the upgrade will focus on content exposure and content discovery (featured content, highlighting great posts/content, etc) and the reputation/award system.
Thank you for your patience during this entire process.
Enjoy!
Don't like ads? Remove them while supporting the forum. Subscribe.