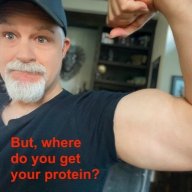 I followed the science; all I found was money.
Staff member
FASTLANE INSIDER
EPIC CONTRIBUTOR
Read Rat-Race Escape!
Read Fastlane!
Read Unscripted!
Summit Attendee
Speedway Pass
User Power
Value/Post Ratio
430%
Jul 23, 2007
36,338
156,354
@circleme
-- really appreciate that you are sharing your experience.
As
@Andy Black
says, "
JUST START
" -- and you've started, discovered some things, and are plotting your moves forward. Good for you.
As others have stated, there are some mindset issues (either as a freelancer or a Fastlaner) that could be problematic.
Some users have done a good job of pointing those out.
Fastlaners have bosses too. Entrepreneurship can be 24/7 early in the game.
So a lot of your freelancing experience won't rectify itself in a Fastlane venture, at least not in the early stages. Lot of those things can be tackled with leadership and delegation.
The good news is, there is a meaningful upside moving forward.