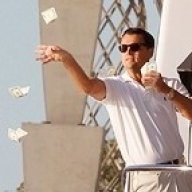 New Contributor
Read Fastlane!
After being recommended the
Millionaire Fastlane
by a friend and reading it a week ago, nothing has seemed so painfully evident.
I'm currently slogging through a 4-year business degree... just so I can get the "privilege" to work a 40-year dead-end job from 9-5 every day and trading in 5 days of my life for 2 days of false freedom.
It's crazy to think that I've gone almost 2 decades of my life following and abiding by the slow lane... I was always a good student, working extra hard to achieve the best results. But now, I find it kind of funny... my entire academic life has really set me up for one thing:
A life of mediocrity.
Nowhere was I taught how to think for myself, how to create my own vision while providing value for others, and how to make that vision reality.
As irritating as it is to be deceived by society for so long, I am abundantly happy and grateful to have realized this early on in my life, and now, with the start of this process thread, I am fully committed to living beyond mediocrity... and achieving Financial Liberation.
My Execution Plan:
I'm going to take the Web design freelance route, not only for the cash flow but for
INSIDERS
experiences into other businesses and for developing business skills that will ultimately lead me to the Fastlane.
When I've found an opportunity that can provide value to millions, I will execute on that, and speed on the Fastlane.
Ultimately, I want to retire before 30. I've realized how much I hate working, and although I can work really, really hard to accomplish my goals, I've concluded that my life won't be a work simulator.
---
What I've done:
From the start of September to the beginning of October, I did half of a
100-day code course on Udemy
and would say I am now intermidate+ with python, however, I've discontinued this for a faster lane.
I've read some gold threads, most notably like a small fraction of
Fox's web design thread
, and some of
guitarmandan's thread
.
I've also read the 1,000,000 dollar web designer guide as well as Breaking the Time Barrier and I now understand I'm in the business of generating value, not making beautiful designs.
---
Current Goals:
Finish
Udemy course on making great websites
(I am halfway through right now) before the end of the week. ( 3 more days to do this.)
Then I will practice this skill set by making some value-producing websites for family->friends->customers->even bigger customers.
So next week, I will be talking to a family member about their business problems and figuring out how I can generate the most value for their business. (10 days to do this. 3 days for the course)
Read all of fox's web design thread less than 2 weeks from now (<14 days from now) If I can absorb this quickly I will do guitarmandan's as well.
Read
unscripted
before the end of the month. I feel like I'm already taking strong steps to break me from the script, so this read isn't as urgent to me right now, but I still feel there is a lot of value to be found in this book.(24 days to do this)
---
If anyone has some advice for starting out, or some books to read, please send them my way, I greatly appreciate it.
I want to get to the point where I could be like Leonardo here with his money. Fun coupons
To financial liberation!
Build Responsive Websites with HTML5 and CSS3