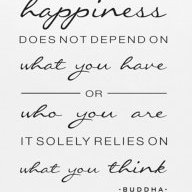 Be in the Moment
FASTLANE INSIDER
Speedway Pass
It seems that fear stands in the way of success... it can paralyse you (analysis paralysis), lead you to make bad decisions, etc. If you can get the the heart of it, you can come up with a safety net to protect what it is that is most precious to you - or you may walk through the loss - and see that you will come out on the other side okay.

People fear making mistakes, failing, getting it wrong, losing valued possessions, etc.

If the sheist hits the fan - either in the form of personal financial disaster or in the form of a recession/depression, what is the very worst thing that can happen to you financially?

lose your house
credit score tanks
lose your business

For me, it is losing my house. I know that even if I have to start at ground 0 (negative net worth) - I can build again. If I lose a business or all my investment properties, I can rebuild.... even if my credit is shot.

What I can't replace, is my homestead. So, my "back up" plan includes the ability to keep my house.

What do you most fear financially?
How do you overcome that fear?