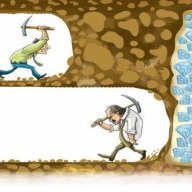 Never give up
FASTLANE INSIDER
EPIC CONTRIBUTOR
Read Fastlane!
Read Unscripted!
Speedway Pass
I wanted to start a thread on Fastlane opportunities and case studies for artists of any kind: writers, musicians, actors, sculptors, illustrators, filmmakers, whatever.
I find it fascinating when a single person, with just their artistic work, can become way more valuable than big corporations. Their intellectual property can last not only their entire lifetime but also future generations, which is mind-boggling when you think about it.
The most obvious example that comes to mind is J.K. Rowling with her net worth of almost a billion dollars. Her start-up costs were basically zero and her scale is almost infinite. No matter what happens, she'll continue getting paid lots of money for her work done many years ago.
But there are also smaller examples that are equally impressive to me. For example, Brandon Sanderson had
a Kickstarter where he crowdfunded almost 42 MILLION dollars for his four novels
. Or comic writer Robert Kirkman who created The Walking Dead which is now one of the biggest TV franchises. Or George R.R. Martin and Game of Thrones which is also becoming an even bigger franchise with new spin-offs.
As for other types of art on a smaller scale, a friend recently sent me a video of
a guy who made over $800k selling beats online
.
Or I find the
Viva La Dirt League guys
super impressive with their work ethic and how they
recently crowdfunded $2.5 million dollars to build their own studio
(and previously
crowdfunded $400k
to produce
an awesome short movie
). Just 5 years ago they were
making like $1,300 a month
. Now just t
hrough Patreon alone
they get almost $30k a month and it seems like they're only getting started.
I mostly know examples from the writing world as that interests me the most but I'd also love to learn about other artistic fields when the artists are approaching it from an unconventional, Fastlane perspective.
For example, how would one approach screenwriting in a new way to avoid the gatekeepers in Hollywood? Or how would one bypass the low income from streaming services and make great money as a music producer? Or how could you become a filmmaker without having to work in the film industry first?
Whatever you want to share about the world of art and how to make it Fastlane, post it here.