Legendary Contributor
EPIC CONTRIBUTOR
Read Millionaire Fastlane
I've Read UNSCRIPTED
Speedway Pass
May 10, 2015
3,139
6,870
1,512
Okay, we're going to get into some deep and really cool stuff here. I bounced back and forth for almost a year on this forum as to whether I even wanted to post about this, since I'm planning on saving the materials for a book. But the more I think about it I think it's such an essential thread that I'd feel like a dick for not posting. Plus putting things out there helps you refine your ideas.
I know there's a lot of info here but this post is going to go over ways to actual, scientifically validated ways to improve Locus of Control, increase Motivation, boost Self-Control and build all the traits that are
core
to building wealth. Again, this is all scientifically validated, evidence-based approaches. Not the stuff you hear that have you feeling motivated for a week, then once the effect wanes you're back in the same boat.
Understanding this stuff can have a
whopping
effect on your bottom line, health and happiness. This is often the 'missing link' to success. If you're already wealthy, this can help make you wealthier. If you havent yet achieved success, this may be the magic ticket. It may also improve your happiness, your relationships and other major areas. This stuff took me a good 10+ years to piece together out and it's the info I wish I had when I was 21.
A lot of this comes from my personal battles as well as other things. Up until the age of around 25 I was a chronic underachiever. My IQ was in the top 5%, but what was I doing? Working at a Water Damage Removal company. People would tell me 'dude you can do so much more… why are you cleaning water out of people's basements?' I honestly didn't know the answer to that.
It made me not only want to figure out my own life, but figure out why some people were successful in life and why some weren't in order to reverse engineer it for anyone. So I did what I always do… pour over the data and connect the dots.
This post will be broken into two sections: what causes people to be successful according to data, and how you can potentially use that info to become even
more
successful.
So before we even go into anything, we have to very briefly define the personality traits a little bit, since personality traits play an enormous role in any type of life success. Big 5 personality is somewhat similar to the
MBTI
, it just has a lot more scientific validity. So bear with me if there are any complicated technical terms as everything will be explained. There's no need to memorize any of these terms, just get an idea of the different traits.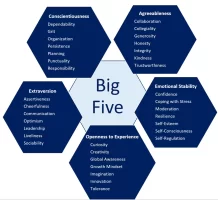 So okay, what makes somebody successful? Well, of course, to find out we'll look at the data. This is a chart I made from data taken from a study on how personality traits and intelligence predict career success:
Data from: THE BIG FIVE PERSONALITY TRAITS, GENERAL MENTAL ABILITY, AND CAREER SUCCESS ACROSS THE LIFE SPAN, (T Judge et al)
How to read the chart: basically the higher the number and the darker the box, the bigger the correlation. A 1.0 correlation is a perfect correlation but those are virtually nonexistent in Social Science research.
.3 considered is big, .4 is really big, .5 is enormous.
Even .2 is a pretty decent finding. So don't look for any perfect 1.0 correlations. They're unicorns. They don't exist except when measuring the same exact thing.
So what does this tell us? Again, the darker the color, the higher the correlation. So for Extrinsic Career Success, the most notable correlations are with
g-Mental Ability
(general intelligence) and a trait called
Conscientiousness
, both coming at whopping .5 correlations. From
Wikipedia
:
Conscientiousness is the personality trait of being careful, or diligent. Conscientiousness implies a desire to do a task well, and to take obligations to others seriously. Conscientious people tend to be efficient and organized as opposed to easy-going and disorderly. They exhibit a tendency to show self-discipline, act dutifully, and aim for achievement; they display planned rather than spontaneous behavior; and they are generally dependable. It is manifested in characteristic behaviors such as being neat, and systematic; also including such elements as carefulness, thoroughness, and deliberation (the tendency to think carefully before acting.)
Going back to the chart, Conscientiousness predicted Extrinsic career success
even better than intelligence
. I'm not going to focus on Intelligence here, since there aren't many reliable methods of improving it as of now. Maybe we'll go into it in another post, but for now, Conscientiousness is the biggest thing we can improve and this trait has a
whopping
effect on success. Learning to harness it will give people pretty much whatever level of success they want.
Conscientiousness also predicts success in a number of other areas:
Our findings suggest that conscientiousness is the trait most broadly associated with marital satisfaction in this sample of long-wed couples.
Personality traits and marital satisfaction within enduring relationships - Journal of Social and Personal Relationships
People with high Conscientiousness were also found to earn better SAT scores, have higher educational attainment, have a lower BMI, have better health, are less likely to divorce or become single mothers/fathers and a number of other important measures.
This article investigates how personality and cognitive ability relate to measures of objective success (income and wealth) and subjective success (life satisfaction, positive [emotion], and lack of negative [emotion].) Thus, the benefits of conscientiousness may be remarkable more for their ubiquity than for their magnitude.
Who Does Well in Life? Conscientious Adults Excel in Both Objective and Subjective Success - Frontiers in Psychology
According to
Dr. DeYoung
's model Conscientiousness has two facets (subcategories) - Orderliness and Industriousness. Orderliness is organizational skills and Industriousness is essentially being a hard worker. Industriousness is a much better predictor. In other words, Being hard working is an enormous predictor of success. May sound obvious, but we need ways to
boost
that trait.
Conscientiousness also a very good predictor of overall happiness:
In general, conscientiousness has a positive relationship with subjective well-being, particularly satisfaction with life, so highly conscientious people tend to be happier with their lives than those who score low on this trait. Although conscientiousness is generally seen as a positive trait to possess, recent research has suggested that in some situations it may be harmful for well-being. In a prospective study of 9570 individuals over four years, highly conscientious people suffered more than twice as much if they became unemployed.
So let's go back to the chart because there are a number of other interesting insights here.
One interesting thing here is the string of negative correlations between success and the trait
Agreeableness
. But also note that with the exception of Job Satisfaction, the correlation is very small only explaining ~1% of the variation. But for Job Satisfaction, we get a somewhat large .26 negative correlation.
This means that being too agreeable is harmful to Job Satisfaction.
Agreeableness is a personality trait manifesting itself in individual behavioral characteristics that are perceived as kind, sympathetic, cooperative, warm, and considerate. People who score high on this dimension are empathetic and altruistic, while a low agreeableness score relates to selfish behavior and a lack of empathy.
This is likely because being a pushover is bad for success. Especially when it comes to Job Satisfaction. It seems that the data backs up the old "nice guys finish last" adage. But, I think there's a balance you have to attain, and you want yourself to be somewhere in the middle. If you're too Agreeable, you're a pushover who gets stepped on. If you're too
Disagreeable
, you're basically a sociopath, willing to step on anyone or anything to get what you want, who will likely go to jail with Bernie Madoff pretty soon.
Those who score very low on agreeableness show signs of dark triad behavior such as manipulation and competing with others rather than cooperating.
So finding that balance is important. Other research cited in
Barking up the Wrong Tree
showed that the ideal strategy is to be nice to people in general, but if they mess with you, don't hesitate to put them in their place. Be nice, but have boundaries.
How
Openness
relates to career success. Openness very strongly relates to creativity. Open people are significantly more creative.
The Number One Predictor of Creativity? Openness to Experience | InformED
Openness indicates how open-minded a person is. A person with a high level of openness to experience in a personality test enjoys trying new things.
So in the data, this tells us that Creativity does not contribute to Income or Job Satisfaction
at all.
But Openness
does
contribute to Occupational Status and Extrinsic Career Success. It also contributes to subjective well-being. So it may not make you rich, but it will make you happy and potentially give you a higher status position. This is true of Entrepreneurs as well.
We also see that professional success has a relatively strong link with
Neuroticism
(opposite of
Emotional Stability
in the chart.) Neurotic people perform poorer. The correlation with Emotional Stability are as follows - Job Satisfaction: .26, Income: .32, Occupational Status: .27, Extrinsic Career Success: .34
Individuals who score high on neuroticism are more likely than average to be moody and to experience such feelings as anxiety, worry, fear, anger, frustration, envy, jealousy, guilt, depressed mood, and loneliness. People who are neurotic respond worse to stressors and are more likely to interpret ordinary situations as threatening and minor frustrations as hopelessly difficult. They are often self-conscious and shy, and they may have trouble controlling urges and delaying gratification.
The last trait is
Extraversion
. We see some pretty decent sized (.24 and .19) correlations with Income and Extrinsic Career Success, respectively. The reason for this is likely because Extraverts are
expert
networkers. They make friends everywhere they go, they make people like them, and they usually have a pretty good sales ability. They meet people and sell themselves well. I posted my personal techniques on Networking here a while back:
Fastlane Forums - How To Build An Ungodly, Mind-Blowingly Amazing Network.
[...to be continued]
Don't like ads? Remove them while supporting the forum. Subscribe.
Last edited: