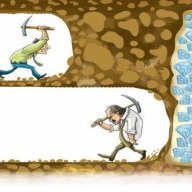 Never give up
FASTLANE INSIDER
EPIC CONTRIBUTOR
Read Fastlane!
Read Unscripted!
Speedway Pass
Does anyone honestly wake up excited in the morning?

If so, what do you do?

I've always felt that this whole "create the life you can't wait to wake up to" is bullshit propagated by self-help gurus and maybe only lived by abnormally happy people who have some kind of a genetic make-up to feel like that most of the time.