Legendary Contributor
EPIC CONTRIBUTOR
Read Millionaire Fastlane
I've Read UNSCRIPTED
Speedway Pass
May 10, 2015
3,111
6,576
1,512
So I don't know how to start this post but something on here reminded me of one of the most powerful books I ever read. There was a thread on here called "
What Book (Besides TMF And Unscripted) Was Your Game Change?
" that I replied to, and the response reminded me of how powerful this one book is.
The reply I got was:
I am more than half way through Mood Cure, and thanks so much. I knew it resonated for some reason. It's changed me in so many ways. I already ate well so I probably exceed what they talk about in Mood foods, but the other supplements especially the Aminos, DLPA, Tyrosine are magical and I have fixed things that I had been reading books to see what was wrong with me. I am so full of energy and my mind is racing and motivated each day. I can't thank you enough for recommending this Gem.
My original post was:
The Mood Cure - Julia Ross

Mindware: Tools for Smart Thinking - Richard Nisbett

If you haven't read those.. you're in the dark
I read this book in around 2012, so I really don't think of it that often anymore, but for like 12 months, I recommended this book to almost
all
of my friends who even had minor issues or wanted to improve performance and they always come back saying the same thing. "
Holy shit
, that book flipped my whole world upside down" Even if you
don't
have Mood issues, this book is still a must-read. If you do it's
definitely
a must-read. His reply reminded me of all the responses I used to get in recommending that book and helping people through mood issues: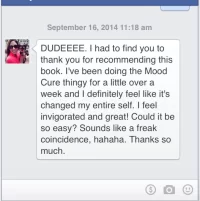 These were some of the replies on the blog posts people wrote:



This post will only let me attach 10 images, so I'll continue the post below.
Don't like ads? Remove them while supporting the forum. Subscribe.
Last edited: