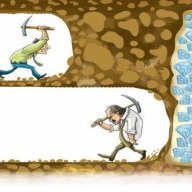 Never give up
FASTLANE INSIDER
EPIC CONTRIBUTOR
Read Fastlane!
Read Unscripted!
Speedway Pass
I've just finished reading Curtis "50 Cent" Jackson's new book
Hustle Harder, Hustle Smarter
and man, it's sooo goood!
I have to admit that I was VERY into hip-hop culture as a teenager and in my early twenties which makes me biased but still— the book has SOLID advice, both general life advice as well as business advice. I loved reading Curtis's stories from his career as a rapper as well as a TV executive and investor. He has an admirable work ethic and an impressive long-term outlook (that legacy philosophy
@Kak
often mentions).
It's funny because I like to listen to 50 Cent when I want to pump myself up and bring out that inner hustler. I didn't know why his music worked so well for me (that's despite that I like only some of his songs). Turns out that I could actually feel his work ethic through his songs.
Here are some highlights from the book:
One thing I always try to assess in new business partners is what I call their "passion stance." Just how passionate are they about making this thing happen? Someone with a weak passion stance will probably get knocked over the first time they meet a little resistance. I'm not interested in being around that sort of energy. Someone with a strong passion stance, on the other hand, will really dig in. Get their feet planted and shoulders squared up. So no matter how hard the world pushes back, or how much negativity gets thrown their way, they ain't budging an inch. That's the sort of energy I want to work with. The type of people I'm willing to put my money behind. A strong passion stance is what separates the hustlers who win from the people who always seem stuck in place.
You cannot, under any circumstances, compromise when it's your vision on the line. You have to be prepared to go against popular opinion and turn down money—even if it jeopardizes your relationships—until you're confident you've found the right opportunity.

Would you marry a man just because he proposed? Or a woman because your friends think she's great? I hope not. You don't make a commitment like that just because someone else wants you to. I don't care if you're single, thirty-seven years old, and every time you talk to your mother the first thing out of her mouth is, "When you giving me a grandchild?" You wait until you're 100 percent sure he's Mr. Right before you even think about saying yes.

Would you put an offer on a house because the agent you're working with is getting tired of showing you around and just wants his commission? Hell, no! You'd get another agent and go to open house after open house until you finally find the home you can afford and that you're excited to spend the rest of your life in.

When you settle, you're demonstrating a lack of confidence. If your journey hasn't been easy, you might start to question the value of what you're doing. Maybe you'd better grab the next thing that gets offered before you never get offered anything again. When you begin thinking like that, you've lost the hustler's spirit.
When we look back at how I evaluated the Eminem deal, notice all the positives I focused on: elite talent to work with, a lack of internal competition, and access to a new fan base.

Now notice what I didn't mention: money.

I knew whatever number we agreed on would ultimately be irrelevant compared to what I would earn long term with the proper plan in place. My signing bonus with Shady Records was "only" one million dollars. But I ended up earning so much money off that deal, the signing bonus is almost irrelevant.
I built so much leverage that I just re-signed with Starz for $150 million. The deal includes a three-series commitment and a fund to help develop other G-Unit projects. When it's all said and done, it will probably be worth a lot more than even that.

Even as I was hustlin' on the set, in the writers' room, and on the promo runs, I never for a second thought my true value was only $17,000 an episode. That was just the number I had to agree on to jump-start the process. My true value was going to lie in executive-producing and starring in a hit TV show that would birth multiple spin-offs—and multiple revenue streams. Everything I was doing in Season 1 was meant to put me in a better position to make that happen
When I took a hard look at my situation, the answer was clear: hip-hop culture had decided to give me resistance. I had come into the game as the underdog, but now that I was an international success, they couldn't see me the same way anymore. I knew I was still the same guy, but hip-hop had moved on. It was imperative that I diversify if I wanted to keep growing financially and professionally.
When people don't respond to what you give them, they're telling you they've moved on, loud and clear. If you don't hear them, then you're just not listening.
You must find people who are going to inject new energy into your life. Because if you keep having the same conversations with the same people year after year, your energy is going to stagnate. Your ideas are going to get stale. Your momentum is going to get stuck.
The vast majority of people are attracted to the things they think they can't have. No matter what the setting, unattainability is the ultimate aphrodisiac. When you're looking for someone to invest time, money, or energy in you, you can never let them think they're doing you a favor. You must make them believe that the favor is actually coming from you—that by being brought into your orbit, they will be setting themselves up for a win.
Sigmund Freud once said, "Most people do not really want freedom, because freedom involves responsibility, and most people are frightened of responsibility." Well, I must not be most people then. You already know how I feel about freedom. And I absolutely love responsibility, too. I want as much of it as I can possibly get my hands on. I believe taking complete responsibility for your life is the best way to make sure you never fall into the entitlement trap.
Giveaway!
I'm giving away THREE Kindle copies of the book (sent as a gift via Amazon). Write a post in which you describe what hustling means to you and how you're hustling every day (bonus points if you delve into your long-term legacy strategy—no specifics about your business required, just general plans). I'll choose three best answers on Monday, May 11.