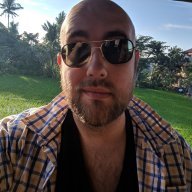 Mini Media Mogul
Read Fastlane!
Speedway Pass
Jun 16, 2012
1,478
3,237
33
The Beginning:
Boardgames are the future. I give them a LOT of thought.
(An anti-tech trend will be upon us soon... followed by a homeostasis that balances tech and non-tech entertainment.)
On December 24th, 2014 (christmas eve) I had an idea for a board game... My girlfriend and I printed up our own holiday Cards Against Humanity (CaH) cards and were having fun playing together. The problem was CaH is a 4-20 player 'party' game.
We didn't have a party, we're just two people... but we still wanted to play.
I searched online for two player variations on the rules, and all I came across were discussions about how impossible it was.
There were people asking these questions online.
This proved that there was a NEED.
They said it was impossible.
This proved there was no solution. If I could solve this need with a solution.. I'd have a viable product on my hand now wouldn't I?
This was an opportunity I didn't want to ignore. VALENTINES DAY WAS COMING UP and I thought this game could capitalize off the press-wave of couple-related activities.
I had to launch within a month!
Solving The Core Problem.
Over the next week I started breaking down the problem into logical steps.
The first solution that came to mind was to add 'simulated players' via random cards from the deck.
I did it... and it was
exactly
as the people chatting online said it would be: unfun. When you can
tell
which cards are human played and which cards aren't... they're not really 'simulated players' like I thought they would be. It's just extra noise.
That's where others had stopped... they encountered a problem, and threw their hands in the air in defeat.
Years of entrepreneurial failures, near-successes, and hindsights taught me to keep pushing.
So I solved the first problem
: Categorizing/Labeling cards into distinct piles eliminated the issue and now these simulated players would work! I labeled each card as a "Person" "Place" "Thing" "Verb" "Exclamation".
The game was officially in "alpha" stage and playable!
True, it didn't have a name, manufacturing process, or launch date... but the core concept was sound.
Solving The Secondary Problems.
Solving the first problem only created a dozen more.
Was complicated, too many piles of cards
Person/Place/Thing/Verb/Exclamation labels made the game feel educational and not fun
Wasn't intuitive/hard to explain
Even though the game was a complicated mess and not ready for the public, I pushed forward. I created a TheGameCrafter (TGC) account and looked at potential pricing for my game. They are a print-on-demand gaming company with a MOQ of 1 unit.
I compared how much it would cost to provide the amount of content that CaH provided. The BASE COST would be $70. CaH could afford to print 400+ separate cards per deck because they were printing in such high volume. A small guy like me could never compete!
This was the moment I wanted to throw my arms in the air and give up.
OBVIOUSLY selling a less-fun. more complicated knock-off of CaH would do poorly. There's no way I could compete.
Years of entrepreneurial failures, near-successes, and hindsights taught me to keep pushing.
I realized that this was just ANOTHER problem I'd have to deal with... just like the first one everybody else gave up on. Creatively... how could I lower the price of the cards BESIDES ordering a few thousand at once?
DOUBLE SIDED CARDS would cut manufacturing costs in HALF!
I ran the numbers again... and what I saw was much more feasible. For $35 base costs I could get a prototype of the game made.
While talking to other game designers, they pointed out the TGC had
SQUARE cards, which would cut down costs yet again!
Hizzah, I had a workable solution to lower costs!
Design.
The game was still pretty complicated. Mostly due to the labels. Did the player really need to KNOW that they were person/place/thing/action?
No.. the questions and answers just needed to line up. They didn't need labels, colors would work just fine... so I removed the labels and my girlfriend (an artist) decided on a color pallet.
This is the current design of our cards:
There were a DOZEN other struggles I had with design... but they don't really matter. They didn't involve overcoming any great struggles.
It's at this point
WE HAD A GAME!

The thing about the design, is it ADDED SO MUCH to the actual gameplay.
All of a sudden, hand management became a STRATEGY. You weren't just playing a card, you were THROWING 3 CARDS AWAY.
Preparing For Kickstarter.
Remember, everything I talked about took place within the span of 2 weeks. My launch-date was approaching and I needed to get prepped for kickstarter!
I spent the MAJORITY OF MY TIME writing and rewriting the sales page, tweaking the images and video.
The message
HAD TO BE RIGHT
, it had to speak to a very specific audience... especially if I wanted to capitalize on press writeups. I can't tell you how much love and attention the sales page got... especially considering how difficult the game is to explain verbally. It all had to be done with images.
Even now, after the launch, there's still a lot that needs doing, but juggling time is so much of a challenge.
Once the branding was to a place of comfortability, I reached out to every blog I could manage. I started spinning crazy new angles at them. "Write about gamification of society!" "Write about technology ruining our lives!" "Write about valentines day activities!"
I lined up about 4-5 articles featuring the game that would go live at the end of January. I pressed "Launch"
Launch Day
So that night, I got a backer who pledged $100. I woke up to two more backers pledging the same. $300 overnight? With no community or mailing list?
What? How?
As it turns out.. All the prepwork I did on the landing page PAID OFF. From the very conception, this game had an audience.
Marketing isn't just about PR, Press, Social Media, and PPC.
Marketing starts at product conception.
When you design and develop a product to meet the needs of a specific group, THAT'S MARKETING.
Having a good product, and clearly communicating the value you bring are just as much marketing as anything else! And it showed.
By the next day, I had funded 100%.
I have 28 days left in the campaign, and I'm hustling every single day... writing guest posts, working social media, generating buzz, releasing videos.
I have a winner here with a bright future and I'm going to pursue it.
Edit: Stupid me. Just occurred that since I talked up the sales page so much, you're probably want to see it:
https://www.kickstarter.com/projects/389081548/original-spin-the-only-party-game-for-2-players
Last edited: