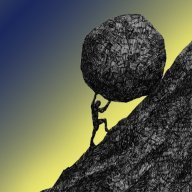 Gold Contributor
Read Fastlane!
Read Unscripted!
Speedway Pass
User Power
Value/Post Ratio
519%
Jan 15, 2018
221
1,148
43
I'm starting this thread to document my journey from "good money" (you can read my intro story
here
) to FU money.
I aim to do this in the next 5 years by getting my online salon supply business to the stage where it's profiting 7 figures a year and then hopefully selling it for several million. I'll then have enough money invested to live comfortably off interest and investments for the rest of my days. Or at least that's my plan. Let's see what happens.
I'm documenting this for a few reasons...
First of all I hope that sharing my successes and failures will be of some value to you on your own journey.
Secondly I see it as a way of holding my self more accountable to my
goals
. Not that I think I'll slack off or give up, but I this will add some extra motivation for me in hitting my milestones.
Thirdly, because while I'm confident in what I'm doing , it never hurts to get a fresh point of view. Hopefully your feedback can help me see things I might be missing.
And lastly, all I seem to do lately is work on the business and learn about business. This thread will give me a much needed creative outlet.
I've decided that I won't be giving away any major details about my business apart from what I've already stated in my intro thread but I will try and be transparent as possible regarding what I'm doing and my progress toward the financial targets I've set.
Goal for 2018: $1,750,000 in revenue
I aim to make $1,750,000 in revenue (a figure more than double what I made last year) and I'll start setting financial targets to hit each month in order to get there.

Monthly totals so far:
January: $101,992
February: $103,041
March: $50,689 (At the halfway point)
Considering I need to average $145,000 every month to hit my goal I'm a long way behind where I need to be. But while the start has been slow, I think if I put in the hard work now, I will see my efforts start to pay off in the back half of the year.
I'll set my goal for March at 108k which would be a good result considering my position at the halfway mark.
The goal for April will be 118k and if I can grow revenue at around 10k per month thereafter I might be able to hit the annual target by years end. It's an unlikely goal, but why not shoot for the moon?
How I plan to grow revenue:
1. Hire & Outsource
– Until 2 weeks ago I was handling everything on my own. I have since hired someone part time to assist with packing & shipping which will free me up to spend more time growing the business. I'll also be looking for other opportunities to outsource work to VA's and other contractors.
2. Expand the product line –
I'm currently talking to 2 new suppliers in China after ordering samples of some new beauty products and am about to put in large orders with both of them for variants of some products we already stock that have been extremely popular. I've also just started stocking some new aftercare products (products that the salons we supply can retail to their customers) and so far they've generated around a thoursand dollars worth of sales within the first week or so.
3. Improve marketing campaigns –
I've been spending around 5k per month on advertising on adwords and facebook but haven't put in the time and
effort
required to really test and tweak the campaigns. I spent my nights over the past 2 weeks doing an online adwords certification and completely overhauled the old campaigns and set up some new ones. They'll need time to settle but once they do I'll continue to tweak and adjust to get a better ROI which will mean I can increase the overall marketing budget and generate more traffic and more revenue.
4. Increase Social Media Presence –
This has probably been the most neglected area of my business. I keep meaning to post more regularly but always seem to find other things to work on instead. I think this is partly because as a guy selling beauty products, marketing them doesn't come naturally to me and I'm not an avid social media user outside of work either. Having said that, Instagram is huge in my niche and other brands are taking advantage so I need to step up my game here. I did try to outsource the social media work by advertising on upwork however I couldn't find anyone with knowhow in both B2B and the beauty industry.
5. A heap of other stuff -
I use Trello to track all my various to do lists and I probably have well over 100 changes planned for the business from website tweaks to improving my email campaigns to improving ad copy. Basically anything that will 1) Increase traffic, 2) Increase conversions, 3) Increase order value. These are the things that will grow revenue.
So that's my first post done. I'm not sure how often I'll be providing updates. I'll at least do a run down for the end of each month documenting how I measured up against the financial goals and what changes I made. What went wrong, what went right. I'll also try and provide updates and answer any questions each week as well.
The plan is to keep coming back to this thread and setting new goals each year, all the way through until I make that sweet FU money and drive off into the sunset in my new lambo.
Last edited: