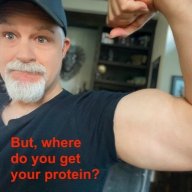 I followed the science; all I found was money.
Staff member
FASTLANE INSIDER
EPIC CONTRIBUTOR
Read Rat-Race Escape!
Read Fastlane!
Read Unscripted!
Summit Attendee
Speedway Pass
User Power
Value/Post Ratio
439%
Jul 23, 2007
37,048
162,499
Everyone who attended the 2018 Summit, wanted to go, and is looking to go next year,
I challenge you...
By the 2019 Summit, you will...
WHAT?
Challenge yourself to 1 numerical goal...
I will have my first sale.
I will have my first $10K/profit month.

I will have created my first profit with my first self-invented product.

I will have revenue of $X dollars.
I will have imported 10 different products to review.
I will have franchised my first location.
I will have invented ONE product from scratch

I will have lost 100 lbs...
I will have done X, Y, or Z...
I will have learned X, Y, or Z...
I will have 10 bonafide failures (occurrences baby!)
This exercise is FOR EVERYONE and ANYONE... not just those who attended the Summit.
What will you look back on and say,
"Wow, things certainly changed!"
And will you be in a position to speak about the great year you just accomplished?
Don't let the momentum wane... I'm here pretty much everyday, sometimes for just a few minutes, but sometimes hours.
Put your
GOAL
in a numerical, measurable form!
So by next year in early February 2019, what will you be saying?