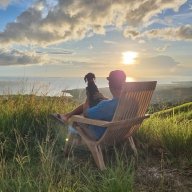 User Power
Value/Post Ratio
900%
Mar 18, 2023
4
36
Hi, I'm AJ. I was born in the Soviet Union in a black family. This weird mix of incoming variables shaped my life in an unusual way.
At the age of 21 I was fed with all the discrimination and violence in Russia, so I left college and went backpacking. I am now 37 and still kinda "on my way". Currently living in the Philippines.
At first people called me a "downshifter", now they call me a "digital nomad". I spent the first 4 years of my journey drinking beer, laying at the beach, driving thousands of kilometers on a motorcycle around India, Thailand, Malaysia, Indonesia, Philippines. I even had a travel blog that won some awards for being the most popular standalone travel blog in Russian language.
The first years of my journey were funded by renting out my room in Moscow. It's not even an apartment, just a room with a shared bathroom, yet I was able to rent it out for 500$ per month and that was enough for ascetic backpacking in South-East Asia.
Several years later, the Russian ruble rate fell down once again and renting the room became unprofitable. So I had to abandon my under-the-palm (or some may call it side walk
) lifestyle and find a job for the first time in my life. With no home, residency, skills, education, savings, and mild alcoholism.
I sat down, thought about my life and I came up with a plan that was very similar to what I read in "The Millionaire Fast Lane" this week. Because I was living on tourist visas that prohibit any kind of visual work, I had to focus only on online jobs and having some WordPress blogging experience, I chose to go for web development.
It took around 3 years of painfully slow and cheap freelancing before I was hired full time at 5$ an hour rate. 10 years later I earn ~40$ per hour, working remotely as a backend developer in a Canadian startup. If you heard of WordPress, I am the developer behind the Uncanny Automator plugin. I enjoy my work and the product we create. I managed to convince my management to reduce my work days down to 6 hours. I learn a lot and my resume is improving, but I need to move on to the next step of my plan.
Around three years ago I started to invest at least an hour of my time into a digital product of mine to gain financial freedom at stop selling my time. At first I decided I will try to make money with 3D printing, so I bought a printer and learned how to design for it.
While there are many ways of making money with 3D printing, and I quickly got fascinated with the technology, I didn't like the size limit of the things a 3D printer can make. So I 3D printed a CNC router that could cut plywood. I got into the hobby of CNC machines and since I was still kinda digital nomad living in rental homes, I had to keep my machines small and portable.
I quickly realized that there is not much one could fabricate with small CNC machines aside from carving out signs, flags, cutting boards etc. I went to Facebook and found several vibrant communities where owners of home CNC machines share 40+ flags per day and most of the members are trying to earn money from their hobby, but struggle carving personalized flags.
After a couple of years of research, I came up with a unique way of slicing and gluing furniture that makes it possible to cut big items even on small machines, while still being good-looking. I created an
MVP webpage
and started to sell my test chair design.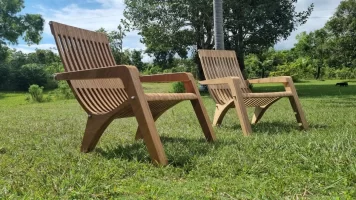 Suddenly, the covid has happened and with the tourism ban I was kicked out of Asia, lost my machines and found myself back in Russia with nowhere to go, 14 years after I left. It took several years before I could go back to Asia and build a new workshop, but luckily those are behind.
Long story short, these days I am reviving my CNC files business. I listened carefully to all the feedback from the first buyers and re-launched the sales last November on Etsy and it has been showing a steady growth. Last month the revenue was around $1200 without any marketing, just several posts in related communities:
I am currently renting a workshop where I can develop new designs and I even hire people who are building my designs, so I don't lose time on that. I am currently working on the second design for my store.
It feels like I am about to shift from the slow to fast lane and I already turned on my left blinker. I feel that I know what to do - develop more products, create content, setup marketing funnels, but I'm not sure in what order those should be done, or should I start hiring people. I am still working 9-3 so I can only spend a couple of hours per day on my business.
All these years I have been doing everything alone. People who surround me are mostly on the side walk or slow lane. I hope this forum will lead to new acquaintances of like-minded people.
Last edited: