Gold Contributor
FASTLANE INSIDER
Read Millionaire Fastlane
I've Read UNSCRIPTED
Speedway Pass
Oct 26, 2018
660
1,396
422
The Problem
You want to begin your entrepreneur journey ?
You want to change your life ?
You want that Lambo ?
I wish, but I have no time and I don't know what to do from here.
The Solution
Assess your situation. Assess your time schedule.
You have 24 hours per day.
Find the one single element that is draining all your free time away. There's has to be something.
I cannot find it for you, but here's
my
flaw: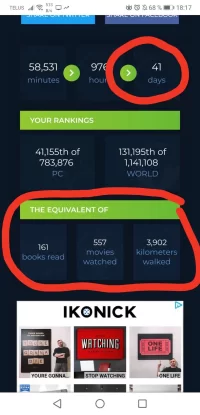 That is the time I spent playing Fortnite. I
spent
976 hours. The majority of it was last year only.
I have ~
3,079 hours played
on my Steam account. Overall, I played over 10,000 hours (if not double that).
The game I played the most: 4,000 hours.
This is about 500 days, 8 hours per day
.
Stop. Wasting. Time.
Gaming is an easy thing to spot as "wasted time" in a schedule.
Ditch TV shows. Ditch Netflix. Ditch social media browsing or mobile gaming.
In the end, you'll
win
anywhere from 1 to 4 hours
per day
. It's time to go work on that business idea and get that Lambo.
Take Action
Step 1
Uninstall.
Unsubscribe from those 2451 people you follow on Instagram.
Unplug the TV.
Porn

Delete those bookmarks, ALL OF THEM. Delete your complete browser history and autocomplete.

Write a to-do list daily and stick to it.
Step 2
Notify someone around you (of find someone on this forum) that starting today, you will not do X again. Have them hold you accountable.
Step 3
Get the Lambo.
At the end of the day, you'll realize how much you can achieve with so little time, if you dedicate yourself to it. You'll become addicted some something else: your goal. You want that to happen, because it's way easier to stop doing other things just so you want concentrate on achieving your goal.
Screw reading that book on frugality, I wanna get that second sale by Friday.
That's the way to go !
Go read
Unscripted
if you did not already. Do it. Change your mindset, Act. Assess. Adapt.
What will have you stopped doing today?

What will have you started doing today ?
Don't like ads? Remove them while supporting the forum. Subscribe.
Last edited: