Administrator
Staff member
EPIC CONTRIBUTOR
FASTLANE INSIDER
I've Read Rat-Race Escape!
Read Millionaire Fastlane
I've Read UNSCRIPTED
Summit Attendee
Speedway Pass
Jul 23, 2007
32,686
124,858
3,751
Kinda hard to beat ZERO cost trades in either options or stocks.
Robinhood
I made a small deposit there but haven't traded anything because the interface isn't really that great. But then again, maybe a wonky interface is better than spending a fortune on commissions, which I'm doing at a variety of other places.
With this platform, there is really no excuse to start building your passive income money system.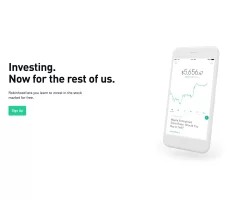 Don't like ads? Remove them while supporting the forum. Subscribe.